Assuming you are one of thousands of theater goers who plan to see Hamilton – the hit musical by multi-award-winning lyricist, composer, performer Lin-Manuel Miranda – when it is in Chicago because tickets are easier to come by and cheaper than in New York, think about why you want to see the show.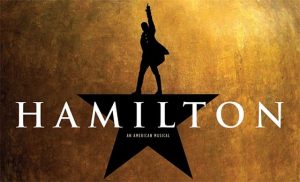 Is it because it's been playing to full houses in New York or because it received 11 Tony Awards including Best Musical. Is it because you like rap and hip hop? Do you care that it is, gasp, about America's founding Fathers? Or do you go by reviews?
OK, read some reviews: "…pulses to a joyful new beat" – Eric Grode, New York Sun.  "One of the most polished and exuberant musicals now on Broadway. If you have any rhythm in your heart you shouldn't miss it," David Richardson WOR Radio. "…. a groundbreaking 21st-century musical. This extraordinary blend of old and new pushed the sound of Broadway deeper into new territory," Jeremy McCarter, New York Magazine.
No, they weren't for Hamilton. They were talking about In the Heights, Miranda's first musical (2008), that is a slice of life and dreams in New York City's Washington Heights. It garnered four Tony Awards: Best Orchestrations, Best Choreography, Best Musical and Best Score.
Now that Miranda's Hamilton is the hottest ticket around, it's arguably time for In the Heights to tour again for those people who missed it the first time.
But getting back to Hamilton, Miranda has brought back many of the same creative team members from his first musical.
There is the same director, Thomas Kail, same choreographer, Andy Blankenbuehler, same musical and orchestrations director, Alex Lacamoire, same costume designer Paul Tazewell, same lighting designer Howell Binkley and same sound designer, Nevin Steinberg. Some of the producers are also the same: Jeffrey Seller, Sander Jacobs and Jill Furman.
As to the cast of the touring Hamilton, Miguel Cervantes who was part of the NY cast as an alternative Alexander Hamilton and played Hamilton in some performances, is Hamilton in the Chicago run. Two-time Tony nominee Joshua Henry who joined the Broadway cast of In the Heights is Aaron Burr. Tony Award-winner Karen Olivo who was in the original cast of In the Heights is Angelica Schuyler.
In a Rolling Stones interview by Mark Seliger, Miranda who didn't just write the show but also starred as Hamilton, explained that he also liked the Burr role. He compared the choice to playing  Valjean or Javert in Les Miz.
"Do you want to play the virtuous guy with the crazy high notes who's onstage more? Or do you want to play the badass who's always a step behind him?" Miranda said.
Either way, Miranda has rekindled interest in not only America's Founding Fathers, but also in Alexander Hamilton, an immigrant who was an abolitionist while others still favored slavery, a man ahead of his time who understood the need for an independent judiciary, central bank, professional military and a formidable executive branch.
Tip: Before or after seeing the musical, read biographer Ron Chernow's Alexander Hamilton. A New York Times bestseller, the book was Miranda's inspiration for the show.
Details: 'Hamilton,' with books, music and lyrics by Lin-Manuel Miranda, plays an open run in Chicago beginning Sept. 27,2016 at the Private Bank Theatre, 18 W. Monroe St., Chicago, IL.  For tickets and other information visit Broadway In Chicago.