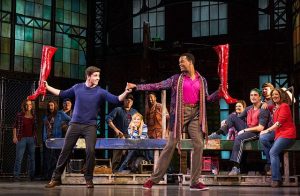 HIGHLY RECOMMENDED
'Kinky Boots,' a high-kicking, Tony Award winning musical by Harvey Fierstein and Cyndi Lauper, is back in Chicago for only a week. And it's back better than ever.
As Charlie Price of Price and Son, a failing Northhampton, England men's shoe company, Adam Kaplan is very convincing as a son who does not want to work in the family business. He moves to London with fiancé Nicola, beautifully sung and interpreted by Broadway and film actress Ellen Marlow. There, Charlie tries to help drag-queen/cabaret star Lola who was being bothered by thugs.
A champion boxer who tried to please his father, Lola managed without help but accidently knocked Charlie down. While recovering, the reluctant shoe heir heard Lola and his company of drag Angels complain about shoes that were high heels designed for women.
On Broadway, Billy Porter danced off with a Tony as Lola, but J. Harrison Ghee is amazing as the current touring Lola. He and his superbly adept Angels are worth seeing.
So is the show's message about accepting yourself and others instead of trying to fit parents' expectations or a society's viewpoint. The message has become even more politically correct following the US Supreme Court's gay marriage ruling.
There is Lola's soulful lament in the beautiful "Not My Father's Son," the lovely "Hold Me In Your Heart" and Charlie's wonderful "Soul of a Man."  But it is the finale, "Raise You Up/Just Be" sung by the entire cast, that hones into the message with its joyful sound.
Counter balancing the serious songs is Tiffany Engen's hilarious rendition of "The History of Wrong Guys" as Lauren, the shoe-factory worker who recognizes that kinky boots will be the footwear niche that could save the business.
'Kinky Boots' is a high-energy crowd pleaser directed by Jerry Mitchell who also did the fabulous choreography.
Mitchell won the Tony for Best Choreography and Lauper for Best Musical and Best Score.
Details: 'Kinky Boots' is at the Oriental Theatre, 24 W. Randolph St., Chicago, IL, now through Sept. 4, 2016. For tickets and more information call (800) 775-2000 and visit Broadway in Chicago.