RECOMMENDED
To appreciate 'How to Succeed in Business,' now at Marriott Theatre, you have to go back in time to the 1950s when shirtwaist and little jacket dresses were in and large companies had a typing pool of secretaries who dreamed of marrying their boss.
Based on Shepherd Mead's 1952 satirical book but adapted in 1961 into a Frank Loesser musical with book by Abe Burrows, Jack Weinstock and Willie Gilbert, the show is dated. The boss is just as likely to be female.
The second part of Mead's title is 'The Dastard's Guide to Fame and Fortune." If you haven't seen the 1967 movie starring Robert Morse, the book's full title is a clue that the show reveals how some businesses hire and promote employees, back then and, horrors, even now.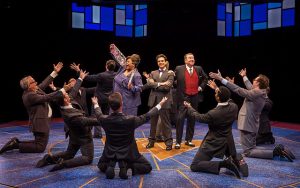 Think nepotism, college ties and flattery. BTW, advertising, frequently mentioned, was Mead's road from mail-room clerk to a vice-presidency.
Directed by Don Stephenson, the show is witty and has a fine cast. Watching Ari Butler in Act I, as the ambitious J. Pierrepont Finch follow his 'How to' guide book as he rapidly swung his way up the corporate ladder, was somewhat fun.
However, Finch's hour and half of repeated successes wasn't exciting enough to tamp down thoughts of being able to get up and stretch. That is even with Marriott Theatre's usual excellent choreography, artfully done for this show by Melissa Zaremba.
The bright spot in the first act was the secretaries' singing "Paris Original" as each one trounced in thinking she was wearing something special for a fancy reception. They all had on the same astonishing, over-the-top dress and head piece.
Act II is a different story. Not just shorter, the second act has more oomph and two fabulous songs: I Believe in You and the Brotherhood of Man.
For I Believe the scene is the executive washroom where the sink/mirror vanities are creatively on casters that move around as Finch and cohorts refresh shaves and admire reflections.
In Brotherhood Felicia P. Fields as the secretary Miss Jones, puts her own indomitable stamp on it by adding scat to the number. Another standout is Angela Ingersoll as Hedy, a sexy, nightclub cigarette-girl type who is the boss' mistress.
Details: 'How to Succeed in Business…' is at the Marriott Theatre,10 Marriott Drive Lincolnshire, IL, now through Oct. 16, 2016. For tickets and other information call (847) 634-0200 or visit Marriott Theatre.