RECOMMENDED
In East Texas Hot Links, Writers Theatre's current show, the rhythmic speech of Adolph the "Professor," the café setting, the discussions about work, life and death, and a sense of the economic futility of being black in a white man's world, is somewhat reminiscent of playwright August Wilson's Two Trains Running that ran at Goodman Theatre in 2015.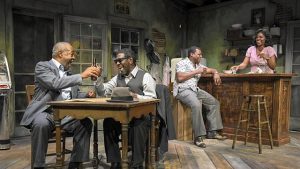 East Texas by actor/playwright Eugene Lee, a native Texan, is set somewhere between Dallas and Houston in 1955 when the KKK is a very real threat to blacks and white men punish blacks who are interested in light-skinned girls.
Two Trains takes place in Pittsburgh's depressed Hill District in 1969. Both plays deal with the economic realities of the time and blacks helping and taking advantage of other blacks.
However, you don't realize quite how important the geographic and decade difference is until two-thirds of the way into East Texas. But you might not mind. Ably directed by Ron OJ Parson who was Memphis in Two Trains, the production takes time to acquaint audiences with what life was like in that area before the Civil Rights Movement has supposedly made a difference (re the recent arrest and lack of respect of Sandra Bland).
The action plays out in Writers intimate Gillian Theatre where you are so close you might feel as if you are ensconced in a café corner. Kudos to scenic designer Jack Magaw for the rustic café.
After about an hour of character development and arguments regarding self-preservation and greed versus helping each other and caring, you might be ready for a disastrous confrontation. After all, there are Adolph's phrases such as "we devour each other," and "are links in the food chain."
There is also Boochi Reed (A.C. Smith) a gambler and foreteller of bad events with some dark warnings. But when disaster strikes, you will still gasp.
Audiences who saw Goodman's Two Trains will recognize Smith as West  and Alfred H. Wilson, a small-time, good-hearted  property owner Columbus Frye in East Texas as Holloway in Two Trains.
Indeed, Writers Theatre's entire cast is outstanding. XL Dancer (Namir Smallwood) is so good you don't see him early on as the disaster's catalyst. Tyla Abercrumble is terrific as café owner Charlesetta Simpkins.
Willie B. is the glib Adolph and Antoine Pierre Whitfield is believable as hot-headed Buckshot. Kevin Roston, Jr is Roy Moore who comes on to Charlesetta but doesn't get anywhere. Luce Mtrius is Delmus Green who wants to work so he has enough to leave the area.
East Texas Hot Links is at Writers Theatre, 325 Tudor Court, Glencoe, IL 60022 now through Jan. 22, 2017. For tickets and other information call 847-242-6000 and visit writerstheatre.