It was Feb., 4, 2017, not December, 1963. But the people who attended the 'Chicago Voices Concert' at the Lyric's Civic Opera House will arguably remember the night.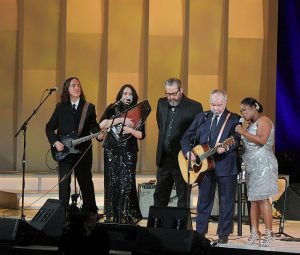 One famed musician after another performed on stage. Their common denominator was a Chicago tie.
Put together by Renée Fleming to showcase sounds of Chicago, the opera star pointed out that music brings people together. "Amongst the fear and heartbreak we do what we do best," Fleming said.
Interspersed with video clips of famed old time singers in opera, folk, jazz, pop and gospel, including Muddy Waters, Howlin' Wolf Mahalia Jackson, Mary Garden, Nat King Cole and Steve Goodman were live performances from current standouts.
Grammy-nominated blues artist Shemekia Copeland got the night off to a rousing start with "The Battle is Over (But the War Goes On)."
While the audience was reminded of past contributions that emanated from the Greater Chicago area, on stage tenor Matthew Polenzani wowed the crowd with Sammy Cahn/ Nicholas Brodszky's "Be My Love," Fleming sung Claude Debussy,' "Beau Soir" and George Gershwin's "Summertime" and jazz vocalist Kurt Elling put his own stamp on the difficult scat style of singing.
Grammy Hall-of-Fame folk singer John Prine brought  tears to the eyes with his tales as did Tony and Grammy award winner Jessie Mueller who sang "She Used to be Mine" from Sara Bareilles' Broadway musical, 'Waitress.'
The Handsome Family, Brett and Rennie Sparks, had a rhythmic, other worldly sound reminiscent of Stan Jones "(Ghost) Riders in the Sky."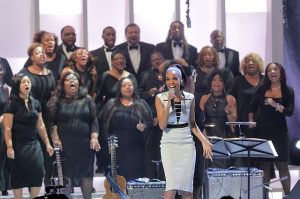 The beat heated up with rap artist Lupe Fiasco's "Kick, Push" and R&B/pop star Michelle Williams' resounding "How I Got Over" gospel number backed by the Trinity Mass Choir.
And that was just the first half of the 'Chicago Voices Concert.'
The second half featured the same stars but in duets and other combinations.
Given the recent divisive political campaign, Chicago gang activities and immigration concerns, the evening finished on a high note of promise with everyone singing "Coming Together" by Jason Robert Brown.
Feb. 4 was, as the Four Seasons had sung, "Oh, What a Night." To see the show, tune in to PBS Chicago, WTTW Channel 11 on March 30.
Conducted by Doug Peck,  the concert definitely was a fabulous reminder of Chicago's great music tradition. But just as important is its behind the scenes motivation.
The 'Chicago Voices Concert' was also a segment of Fleming and the Lyric's outreach project to bring together people of different backgrounds and encourage them to add to Chicago's rich contribution to by telling their own stories in music.  Click Chicago Voices to find out more.