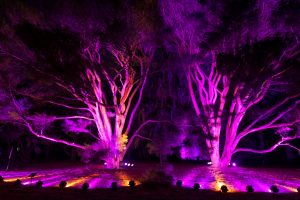 HIGHLY RECOMMENDED
Bundle up, and take a hike through a woodland of bedazzling lights and synchronized sound. The "Illumination: Tree Lights at the Morton Arboretum" spectacle is more brilliant than ever. Now in its fifth year, it is fast becoming a family tradition.
At this holiday light show in west suburban Lisle, the landscape is painted with a rainbow-hued palette of beaming, chasing, twinkling, flashing, cascading and rolling LED lights. Visitors traverse a one-mile paved trail after dark to encounter various sensory experiences created by a combo of modern-day technology and Mother Nature. The trail meanders around the arboretum's Meadow Lake, up and down gentle hills and through lush forest.
"Illumination" not only lights up the trees, it entices visitors to engage with them. Along the trail are a dozen stops, some with interactive elements. Sing to the trees at Tinsel Harmony, for example, and you'll alter the light patterns and colors scaling their trunks.
Drama unfolds at Symphony Woods, where lights appear to dance in time to musical selections from Pyotr Ilyich Tchaikovsky's "The Nutcracker" recorded by the Chicago Symphony Orchestra. At Crystal Promenade, the soft glow of crystal chandeliers radiate through a grove of fir trees. On Ornament Hill, tiny sparkling lights and 32 giant orbs intermingle with pulsating intensity and hue.
Firepits and concession tents selling snacks and hot beverages help ward off the winter chill.
Augmenting the light show are roaming carolers, dancers and musicians on select nights.
The exhibit was designed by Chicago-based John Featherstone, founder of Lightswitch lighting and design firm and a veteran lighting designer for museums, theaters and concerts. It was built in partnership with lighting and rigging production company Intelligent Lighting Creations in Arlington Heights.
Visitors should note that tickets are for a specific date and time, starting at 4:30 p.m. and every half hour thereafter through 8:30 p.m. The exhibit closes each night at 9:30 p.m.
DETAILS: "Illumination" is at Morton Arboretum, 4100 Illinois Rt. 53, Lisle, through Jan. 1, 2018. Closed Mondays (except for Jan. 1), Christmas Eve and Christmas Day. For tickets and other information, call 630-725-2066 or visit www.mortonarb.org.
Pamela Dittmer McKuen
For more shows, visit TheaterinChicago.