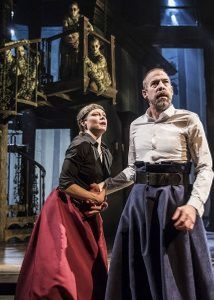 The Jeff awards equity nominations, now announced, recognize exceptional performances, direction, scenic and other important production elements in both large and midsize plays and musicals done by Chicago area theaters during the 2017-18 season.
With 178 nominations in31 categories, the list is too long to publish here so go to Jeff award nominations.  But a quick scan finds Goodman and Court Theatres received the most acknowledgement with Goodman receiving 15 nominations an Court getting 13. Next were Porchlight Music Theatre with 12 and Marriott theatre with 11.
They were followed by Chicago Shakespeare Theater, Paramount theatre and Vistory Gardens theatre with 10 nominations. Don't worry about the different theater/re spellings. They all choose their own preference.
The Jeff committee also paid particular attention to world premieres – 24 plays and musicals.
The winners will be announced at the 50th annual Jeff Awards dinner Oct. 22, 2018, at Drury Lane Oakbrook, Oakbrook Terrace, IL. Tickets are $85 per person and $65 for production members of such associations and societies as Actor Equity and American Federation of Musicians. Visit Jeff Awards for tickets and other information.
Jodie Jacobs