SOMEWHAT RECOMMENDED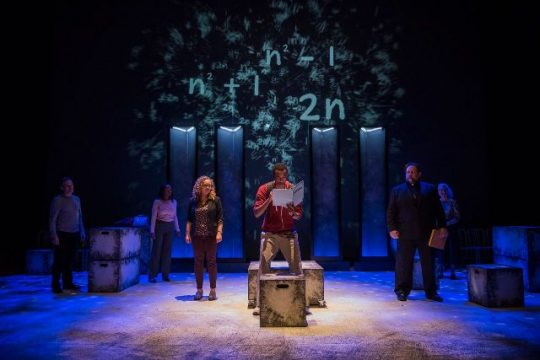 "The Curious Incident of the Dog in the Night-Time" follows the adventures of Christopher (Terry Bell) who is a fourteen year old boy with an undefined sensory processing disorder (like autism) who is also a kind of math savant.
While he has advanced mental abilities on one hand, he also has limited interpersonal skills which manifest in his aversion to personal contact, his inability to tell a lie, and his propensity to take everything he hears literally.
For instance, he is confused by most idiomatic phrases and metaphors. When his test proctor asks, "Are you ready to roll" Christopher simply looks bewildered.
Intrigued by the mystery of the obviously intentional death of his neighbor's dog, the young man sets out to find the perpetrator of the act. That leads him to places he has never been. It confronts him with unimagined truths while being forced to manage and overcome some of his own personal challenges.
This is less of a whodunit and more of a why'd-you-do-it that forces Christopher and us to ponder themes of death, infidelity, and betrayal. In the end there is not so much of a resolution as an open ended series of unanswered, perhaps thought provoking questions.
The strength of the play is providing a glimpse into an alternate state of being.
Actor Terry Bell gave an excellent, well=balanced performance as Christopher. It would be easy to overplay this role but his portrayal is sympathetic and sensitive.
This play by Simon Stephens based on the novel by Mark Haddon and directed by Jonathan Berry, is very much about Christopher and told from his point-of-view.
The other people around him are only significant in that they cause things to happen and cause him to consider how he must react.
His emotional bonds are limited and are strongest with his father Ed (Cedric Mays), mother Judy, (Rebecca Spence) and teacher Siobhan (Caroline Neff). The ensemble did a fine job supporting Bell and perhaps appropriately, no one really stood out or "stole his light." Though, with that said, I found Meg Thalken as the neighborly Mrs. Alexander to be particularly charming.
The production is part of the Steppenwolf for Young Adults Program which I came to understand in the after performance Q and A, to be geared primarily toward older teens (17 through 19) though they do offer programs and performances to children starting at about seventh grade.
I had not seen this play before and only had some cursory knowledge of the content. But based on the title, rough synopsis, subject matter and its inclusion in the YA Program I felt comfortable asking my 11-year-old nephew to be my guest. He is interested in theater (has seen and liked Hamlet), is a kind of math/science geek and is a generally thoughtful and introspective young guy.
In the end, I believe this was a bit dark and convoluted for him. I would say he "enjoyed" it on a more superficial level but was a bit perplexed by much of the more nuanced aspects of the story. The appearance of Tod Doodle, the dog, was a highlight for him. Thanks to assistant director Nate Cohen for being on hand afterwards to patiently answer a couple of mathematical and scientific questions.
To those who might consider bringing some youngsters to this play, the experience made me acutely aware of the difference between a sixth grader and an eighth grader. I think a mature 13 year-old would manage the content better and a high school student would "get it." There are a generous number of "f-bombs" for those concerned with language.
The flexible scenic design by Brandon Wardell seemed a bit dated. I had seen some references to other productions and was looking forward to being wowed. Sadly that is not the case with this production.
I did however appreciate the use of projection design by Joseph Burke though it could have been amped up some as well. Kudos to dialect coach Kate DeVore whom I will credit for keeping the cast's English accents from going too far and becoming a distraction.
I wish this had been a sensory-sensitive performance (Available October 27th) as I would have enjoyed experiencing that.
DETAILS: "The Curious Incident of the Dog in the Night-Time" is at Steppenwolf Theatre Company's Downstairs Theater, 1650 N. Halsted St., Chicago., through Oct. 27, 2018. Running time: 2 hrs., 20 min. with one intermission. For tickets and other information call (312) 335-1650 and visit Steppenwolf.
Reno Lovison