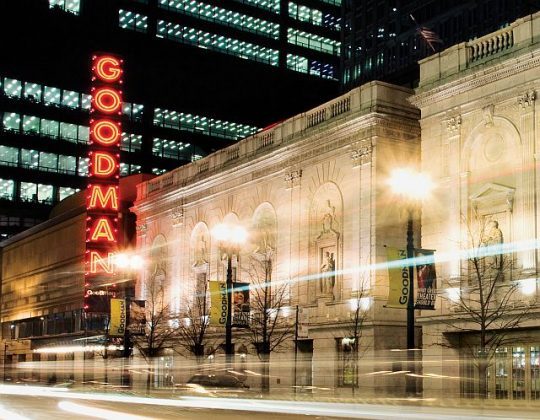 When the Joseph Jefferson Awards holds its annual ceremony and dinner on Oct. 22, 2018 to recognize the best acting and production components of last season's Equity shows, there will be four additional awards.
To mark the Jeff Awards 50th anniversary, Goodman Theatre, started in 1925, Drury Lane Theatre, begun in 1949, Court Theatre founded in 1955 and The Second City, dating back to 1959, will be honored for enriching the Chicago theatre scene for more than 50 years. Over the past 50 years, the four theatres have racked up more than 1,400 nominations and 350 awards.
Some theater goers (and no, 'er' is not a typo, but accepted genre use) may recall when Goodman put on productions in an auditorium at the Art Institute of Chicago before it reconstructed and combined former theater spaces on Dearborn Street.
But what current show-goers may remember is Artistic Director Robert Falls' revival of the award-winning "Death of a salesman" and "The Iceman Cometh," its production of August Wilson's 10 plays in the "American Century Cycle" and the family's annual visit to Goodman for "A Christmas Carol."
Led by Falls and Executive director Roche Schlfer, Goodman Theatre has received a special tony award for "Outstanding regional Theatre," encourages new play development and works with education and community programs. For a look at its history and how it got its Goodman name, visit GoodmanTheatre.
Other theater goers may remember when Drury Lane put on shows at Water Tower or in Evergreen Park. Its impressive history includes more than 350 Jeff nominations.
Founded by Anthony DeSantis, Drury Lane is a family-run organization currently led by Artistic Director William Osetek  and President Kyle DeSantis. Show goers can stay at the hotel connect to the venue and /or eat there before a show. For more information on shows and dining packages visit Drury Lane Theatre.
Court Theatre is inextricably bound to the University of Chicago. Begun as an amateur summer theatre on campus, it turned professional in 1975 under Classics Professor Nicholas Rudall who became is first artistic director.
Still connected to the university, Court Theatre is known for high quality, innovative, intellectual or thought-provoking productions. Currently led by Artistic Director Charles Newell and as of 2018, Executive Director Angel Ysaguirre, Court Theatre often partners with the community and education institutions. For more background and information visit Court Theatre.
As to The Second City, to say that the group that began the highly influential comedy proving ground for SNL, movies, stand-up and improvisational entertainment venues would be to understate its importance in the theater world. As an offshoot of actress, drama coach, director Viola Spolin's theater games, The Second City was second to none in training future comedians and how actors relate to their material and engage theater audiences.
Paul Sills, Spolin's son, founded The Second city with Howard Alk and Bernie Sahlins but the evidence of how good they were lies in their superstar alumni from Gilda Radner, Dan Aykroyd and Alan Arkin to John Belushi, Joan Rivers and Fred Willard.
The Second City does more than merely produce the entertaining, satirical commentary seen in its shows, it also has classes for youngsters and adults in three locations, it's home in Chicago's Old- Town neighborhood, Toronto, and Hollywood. For more information and history visit The Second City.
The 50th Annual Equity Jeff Awards will be held at Drury Lane Theatre, 100 Drury Lane, Oakbrook Terrace, IL, Monday, Oct. 22 , 2018. For tickets and other information visit Jeff Awards.
Jodie Jacobs