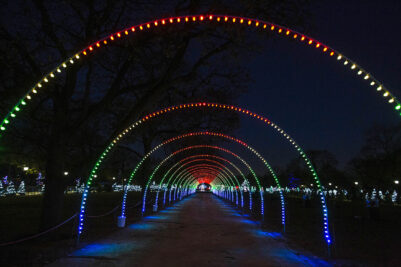 Lots of places from theaters and entertainment venues to zoos stay open on Dec. 31. Some are for kids, some for adults and some are for the whole family. Just know that reserved tickets and COVID protocols are in place.
Brookfield Zoo
See the zoo aglow with lights during Holiday Magic. A blaze with more than 2 million lights that includes, illuminated animal shapes and a tunnel of lights, Brookfield Zoo's Holiday Magic includes New Year's Eve. The gates open at 3 p.m. and close at 9 p.m., Dolphins play from 4 to 6 p.m. (x fees). Brookfield Zoo South Gate is at 3300 Golf Rd. North Gate is at 8400 31st Street, Brookfield. For more information visit Holiday Magic at Brookfield Zoo.
Deck the Hallmark
If you second guess the endings to Hallmark's movies you'll laugh with the Second City crew's Deck the Hallmark" parody. A two-0hour show with a 15 minute intermission, the New Year's Eve productions are at 7 and 10 p.m. Packages can be general admission, drinks and food. The venue is at at the Up Comedy Club, 230 W, North Ave. For tickets and more information visit  Second City Deck the Hallmark.
Frozen
Disney's Frozen, a critically acclaimed musical for its special effects, costumes, storyline and songs has two performances, 1 and 6:30 p.m. in Chicago on Dec. 31, 2021. Hosted by Broadway in Chicago, the production is at the Cadillac Palace Theatre, 151 W. Randolph St., Chicago. For tickets and more information visit Disney's Frozen | Broadway in Chicago
Magic
Make it a magical night with the Magic Lounge's Signature Show at 7 p.m. or at 10 p.m. that adds an NYE celebration. Either way there's magic at your table and on stage.  The Magic Lounge is back of a storefront  at 5050 N. Clark Street in the Blackstone Cabaret Theater. Patrons must be 21 to enter or age 16 with legal guardian. For more information and tickets visit Signature show at Chicago Magic Lounge and Calendar.
Teatro Zinzanni
Celebrate NYE with an unusual combo of circus, cabaret entertainment and food. It all happens in a jeweled, mirrored tent in the Cambria Hotel downtown Chicago at 32 W. Randolph St. For tickets and more information visit Teatro ZinZanni Chicago.
Have a happy and safe New Year
Jodie Jacobs