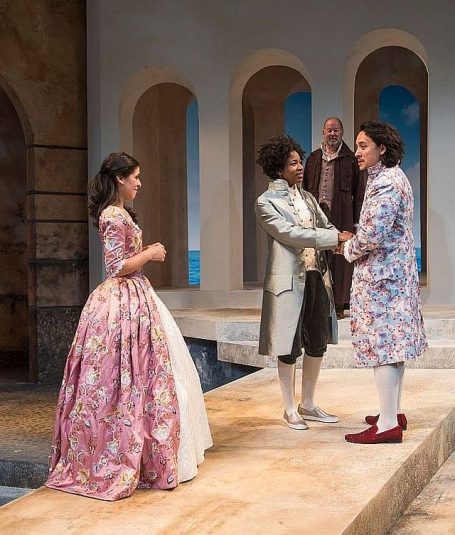 4 stars
William Shakespeare's "Twelfth Night" (subtitled "Or What You Will") must be Writers Theatre's holiday gift to show lovers who enjoy witty entertainment.
Its outstanding cast and superb direction bring out all the deliberate jests, entertaining horseplay, subplots and musical interludes that mark the Bard's wicked sense of humor.
Meant as entertainment that befits the bawdy disorder that had traditionally been part of the Eve of the Feast of Epiphany, the play hinges on Shakespeare's fondness for females dressed as males and the ensuing falling-in love confusion.
There are also the playwright's deceptively honest answers such as when Olivia, a woman in mourning whom Duke Orsino hopes to wed, asks his emissary, Cesario (really Viola, dressed as a young man), if she is a comedian (another term for actor). She answers "I am not that I play."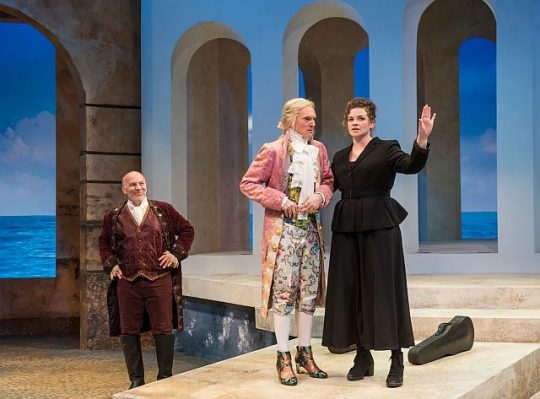 "Twelfth Night" starts out with a wonderfully crashing thunderstorm because the gist of the play's action is that Olivia and her twin brother Sebastian believe the other was lost in the storm that shipwrecked their vessel but each end up in Illyria and enmeshed in love triangles. Of course "all's well that ends well."
This show is truly a cast of riotous characters with Writers Theater and Chicago Shakespeare Theatre regulars.
As Viola, Jennifer Latimore puts across a mouthful with just her eyes and body language and Matthew C. Yee (WT and Paramount's "Once") is perfect as Duke Orsino. Luce Marius WT and Chicago area veteran Luce Metrius nicely meets the challenge of playing Viola's twin brother.
Kevin Gudahl as Sir Toby Belch and sidekick Scott Parkinson as Sir Andrew Aguecheek led the revelry with William Brown (WT and American Players Theatre director) as Feste the fool.
They're joined by Olivia's servants,  Maria (Karen Janes Woditsch) and Fabian ( Mary Williamson) in a mischievous plot to bring Malvolio, Olivia's sanctimonious steward played by Sean Fortunato, down a couple of pegs.
Director Michael Halberstam's approach to the plot, a letter supposedly from Olivia that drops not too subtle hints that she is attracted to the narcissistic Malvolio, is hilarious. The plotters keep running out from their hiding places each time Malvolio seems to exit but then returns. Picture some of them taking refuge in the audience with programs covering their faces or hiding behind potted plants they keep bring closer to the stage.
My problem is that as good Fortunato is, and he is a consummate actor, it's just too far a reach for me to picture him as vain instead of an actor attempting to portray narcissism.
The fine cast also includes Casey Hoekstra (American Players Theatre) as Antonio and Curio,  Nik Kmiecik (Paramount, Chicago Shakes) as Valentine  and the Priest, and John Henry Roberts (WT and Strawdog Theatre) as the Captain.
Written 1601-02 and first performed in 1602, the play wasn't officially published until it was in the First Folio in 1623. Halberstam who is WT's artistic director, stayed true to the period with costumes designed by Mara Blumenfeld.
This is a show I can easily see again.
DETAILS: "Twelfth Night (subtitled Or What You Will)" is at Writers theatre, 325 Tudor Court, Glencoe, through Dec. 16. Running time: 2 hrs, 40 min. For tickets and other information call (847) 242-6000 or visit Writers Theatre.
Jodie Jacobs
For more shows visit Theatre in Chicago