Hey Chicago foodies, this weekend is about putting off the diet until Monday because there's a yummy snack o scarf down or a different cuisine  to try out in the neighborhoods and downtown.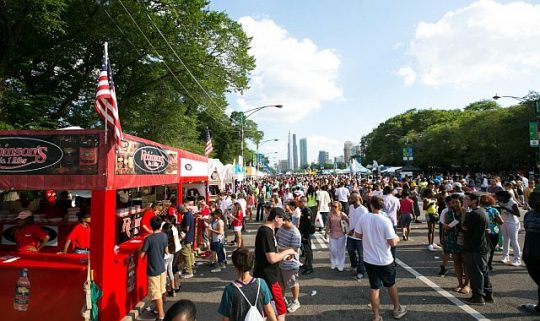 You know this is the biggie, the one that requires good walking shoes and lots of hollow-leg room to visit the dozens of restaurant booths lining Grant Park. Taste runs July 10-14. Hours are Wednesday – Friday: 11 a.m. – 9 p.m., Saturday and Sunday: 10 a.m. – 9 p.m. Admission is free but you have to buy tickets to use at the booths to get any food and beverages.
Along with the regular booths check out the food trucks, pop-up restaurants and chef demos. Also stop by the Petrillo Music Shell to hear who's entertaining the day you're there.
Some streets will be closed (or clogged with traffic) behind the Art Institute and around Jackson for Taste so take public transportation.

For the specific booth layout, chefs and entertainment schedule visit Choose Chicago/Taste
It's about really good barbecue. Well, it's also about good beer. And of course, it's a about great country music.
What you need to know is that this year, Windy City Smokeout has moved from River North to the United Center Parking Lot at 1901 w. Madison St., that the dates are July 12 – 13, 2019 and that gates open at 2 p.m. Friday and at noon on Saturday and Sunday.

Also, get tickets ahead of time. For ticket information see Windy City Smokout FAQs. For entertainment and other information visit Windy City Smokeout.
The annual festival benefits and is at the 92-year-old St. Andrew's Greek Orthodox Church on Chicago's Northside in the Edgewater neighborhood. Celebrating Helenic heritage, it features Greek food, music, dancing and band plus has artisans and kids' activities.
The festival is  July 12-14. Hours ate Friday 5-9 p.m. and Saturday and Sunday from noon to 10 p.m. at5649 N Sheridan Rd. For more information visit Events/GreekFest.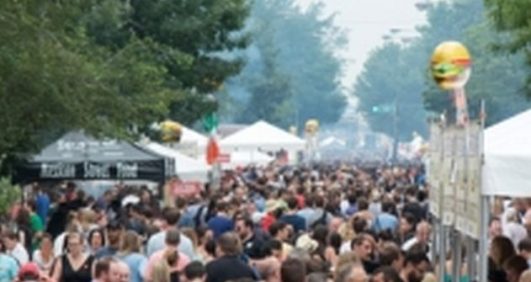 More than a block party but just as friendly is Roscoe Village's Chamber of Commerce's annual Burger Fest. The place to go for great burgers, music on two stages and artisan booths is 2000 W. Belmont at Damen Avenue, July 13-14 from 11 a.m. to 10 p.m. B TW you get to vote on Chicago's Best Burger.

A suggested $10 donation supports the Chamber's activities. Find more information at Roscoe Village Burger Fest.
Jodie Jacobs