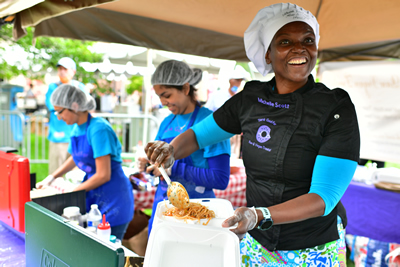 Following a couple of years of virtual and shortened versions of Taste of Chicago, Mayor Lori Lightfoot and the city's Department of Cultural Affairs and Special Events (DCASE) announced May 21, 2022, some surprising plural Tastes and other changes.
Taste will first sharpen appetites for a day in three neighborhoods: Austin, Pullman and Little Village in June before moving to Grant Park for three days in July.
The neighborhood expansion is a double-barrel initiative for Taste of Chicago which began in 1980. It's a chance for Taste goers to get to know other areas of the city and for food vendors to bring their "tastes" to a neighborhood.
Austin is Saturday, June 11, noon to 8 p.m. around 5720 W. Chicago Ave., the event will feature blues bands from Chicago Blues Festival presented by Soul City Blues and a dozen food vendors. For band times and food vendor list visit Taste Austin.
Pullman is Saturday, June 18, noon to 8 p.m. in Pullman Park. 11101 S. Cottage Grove. For the music schedule (hosted by Charise Bennett of Komikal 1 Entertainment) and food vendors visit Taste Pullman.
Little Village is Saturday, June 25, noon to 8 p.m. at Ortiz De Dominguez School, 3000 W. Lawndale Ave. For music schedule and vendors visit Taste Little Village.
Grant Park is Friday through Sunday, July 8-10, 11 a.m. to 9 p.m. at Buckingham Fountain near Jackson and Columbus. There are 32 food vendors, two stages and SummerDance. For the Main Stage and Goose Island Stage plus the SummerDance times and vendors visit Taste Grant Park.
Another change is that no food tickets will be sold.  Food vendors will take cash and credit cards.
All events are free.
For more information visit City of Chicago/Taste.
Jodie Jacobs