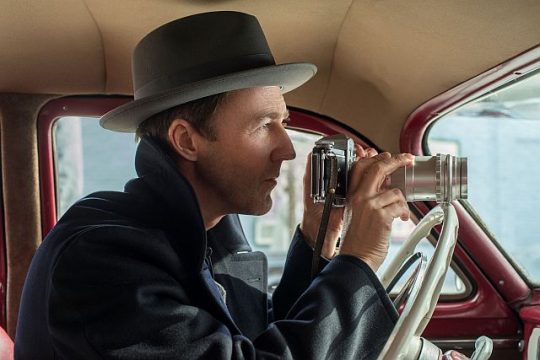 4 stars
The 55th Annual Chicago International Film Festival is running through Oct. 27, 2019 at the AMC River East Theaters.
The world renowned festival includes films from more than 100 countries representing virtually every genre.
Some special categories offered are Women in Cinema, Cinemas of the Americas, and Immersive Cinema exploring virtual reality storytelling in all dimensions.
The week's festivities kicked off with a red carpet featuring Chicago Producer Gigi Pritzker and Chicago Director Jennifer Reeder talking about the film festival overall as well as their respective films, "Motherless Brooklyn" and "Knives and Skin."
"Motherless Brooklyn" features the film's director Edward Norton as a lonely private detective working to solve the murder of his friend played by Bruce Willis.
"Knives and Skin." is a horror movie that takes place somewhere in a small Illinois town and champions female empowerment.
My second day began with an early morning 10:00 AM special press viewing of "Hogar," an Argentinian and Italian collaboration the tile of which means house or residence similar to the word "casa," but the film has been translated with the English title "Maternal" which is appropriate as it deals with teen mothers struggling to bond with their children and overcome the special challenges related to teen pregnancy.
My second press screening that day was "Twentieth Century," a very odd but thoroughly enjoyable film described as "an outrageously weird and funny faux-historical drama about the rise of Canadian Prime Minister William Lyon Mackenzie King in the 1920s, re-imagined as some kind of Dali-esque fever-dream by way of Monty Python."
There are a number of films at the festival that either have Chicago themes or were produced in Chicago.
These include the world premier documentary "The First Rainbow Coalition" about Chicago's mulit-ethnic street gangs in the 1960s primarily led by activist Fred Hampton and the "Black Panthers" who endeavored to affect social change by recognizing their shared struggle.
Having lived through this era in Chicago I found this film which is primarily old television news footage to have a kind of home-movie quality but full of insight that was not generally shared at the time.
Some other Chicago movies are "Girl on the Third Floor," "Hala," "The New Bauhaus" and another world premiere, The Torch," directed by Jim Ferrell about Chicago Blues legend Buddy Guy.
Keep in mind that many of these films will be available in theaters soon, on Netflix, Roku and wherever you like to view films. So even if you missed them at the festival you can still find most of them someplace soon.
DETAILS:  The 55th Annual Chicago International Film Festival is running through October 27, 2019 at the AMC River East Theaters at 322 E. Illinois Street, Chicago. For tickets and information visit ChicagoFilmFestival.
Reno Lovison
Reno Lovison is a frequent theater reviewer here and Executive Producer at ChicagoBroadcastingNetwork.com where you can find additional video and podcast coverage of the Chicago International Film Festival.