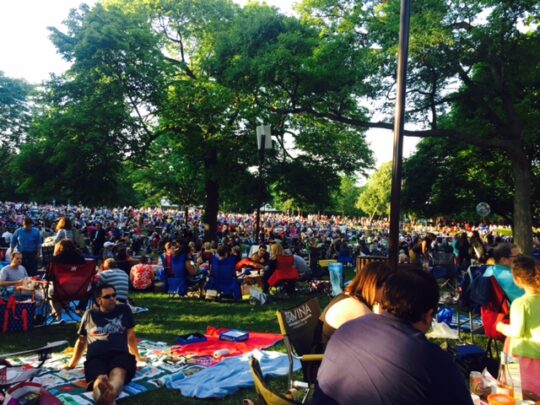 So much has moved to virtual experiences that it is arguably easy to miss another fundraising concert. However, Ravinia fans who miss their picnic on the lawn this summer have a chance to create a unique, virtual experience, this Saturday.
Ravinia is holding "Living Room Lawn Party" at 8 p.m. CDT on June 27, 2020 that features Emmy and Tony Award-winning actress/singer Kristin Chenoweth as the emcee.
A pre-show slideshow starts at 7:45 followed by performances from Chenoweth, soprano Patricia Racette, pianist Kevin Cole and Jazz artist Ramsey Lewis with Ravinia Jazz scholars, plus other entertainers.
Sponsored by Allstate, BMO, The Dancing Skies Foundation, and the Ravinia Women's Board, Living Room Lawn Party will benefit the non-for-profit festival and its mission, especially its efforts to bring music back into schools through its Reach Teach Play education programs serving more than 85,000 community members across Lake and Cook Counties. Even though those programs are virtual now, Ravinia is ensuring music education remains accessible and alive (and fun) for all students, according to a Ravinia Festival statement.
"Music is a vital part of our students' lives, and although they are not meeting with teachers and peers in person right now, it has not stopped us from providing the support and guidance to continue to musically enrich them," said Ravinia Festival President and CEO Welz Kauffman.
"From moving our in-person programs to a virtual setting, to providing easy access to sessions and lessons on YouTube to our students, parents and educators and to mobilizing the entire Ravinia Family to assemble and deliver musical care packages, we continue to keep music alive for all," said Kauffman. Listeners tune in to the Living Room Lawn Party at Ravinia.org/LawnParty.