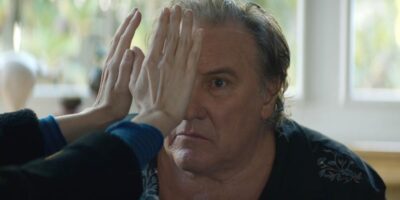 4 stars
"Robust"
In "Robust," Gerard Depardieu portrays a lonely, bored, aging actor, Georges, unwilling or uninterested in going through the same old motions.
When his regular driver/security guard is temporarily called out of town, Georges creates a new alliance with his replacement, Aissa, brilliantly played by Déborah Lukumuena. She turns out to be the equal of both the character, Georges, and Depardieu, himself. Every scene between the two is a mesmerizing lesson in restraint and underlying tension.
The film is not a thriller with over the top special effects or chase sequences. There is no great plot or cinematic triumph. "Robust" is basically a quiet character study directed by Constance Meyer and written by Meyer with Marcia Romano providing very believable situations.
The tension is created between the male/female and employer/employee relationship specifically since Georges has personal boundary issues.
But this is not a "me too" theme. Instead, though there is an underlying subtle desire, this is more of a paternal relationship between two people trying to deal with their loneliness in spite of their busy professional lives.
In the end, as with any intense relationship between people in close proximity over a period of time, they learn something about each other and about themselves.
"Robust" is produced by Isabelle Madelaine. She apparently has produced a number of short subjects which explains her attraction to this piece that is a kind of expanded short subject.
Kudos to casting director Judith Chalier for putting together such an interesting and talented team. Even the performances of the secondary characters, regardless of the size of their roles, were delivered with sincere perfection.
Cinematographer Simon Beaufils treated us to a number of beautiful close-up portraits that amplified the inner tensions and intimacy. Likewise production designer Julia Lemaire provided an array of interesting, mostly interior, settings that provided subtle insight into the characters and their situations.
"Robust" is much like a warm bath. Just sit back and soak it in. Then when it is over feel refreshed and satisfied.
I highly recommend this film because you will be happy to see Depardieu work his magic. But more importantly, you will be very glad that you got to see an interesting performance by rising star Lukumuena.
This is a North American premiere as part of the Chicago International Film Festival with two live screenings at the AMC River East 10/18 and 10/22 and limited online streaming Oct 14, 2021 to Oct 24, 2021 in the following states: Illinois, Indiana, Iowa, Michigan, Minnesota, Missouri, and Wisconsin. For detailed information visit ChicagoFilmFestival.com
Language: French with English subtitles. Running time:  95 minutes.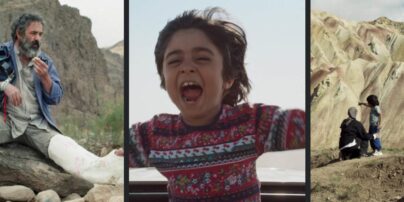 4 stars
"Hit the Road"
"Hit the Road" by director Panah Panahi is a story of an Iranian family road trip with overtones of "Little Miss Sunshine" or "National Lampoon's Vacation." Lest you think Iranian families are very different than yours, this family will dispel that myth.
It is an odd sort of setup that begins with the father,  (Hassan Madjouni) sitting in the back seat with a cast on his leg that is being decorated by his younger 6 year-old son (Rayan Sarlak).
Mom (Pantea Panahiha), a rather attractive forty something wearing a hijab that fashionably reveals her stylish gray hair, is in the front seat, while the elder, twenty-something son (Amin Simiar), is the driver.
You can't help but to ask, "Who are these people, where are they going and why does he have a broken leg?" For most of the trip the purpose of the journey is unclear.
In the first half of the film, we get to know the quirky characters as they quibble and banter back and forth. Most of the action is directed by the younger son referred to as "the kid" who is full of non-stop energy, curiosity and downright obnoxious silliness.  The Spiderman and Batman obsessed "kid" restlessly tumbles and falls relentlessly next to, and on the lap of, the father who willingly partakes in all of the activity, even encouraging him.  Mom does little to intercede and indeed encourages him while the older son silently keeps his eyes on the road.
Through the course of their day-long travel they make a few rest stops and we begin to get a better, but still fairly unclear, idea of their destination. This is best described as a dramedy with the characters using the antics of "the kid" to interject some humor and provide distraction for their more serious task at hand.
If you've been cooped up due to COVID, "Hit the Road" will give you a chance to take a little family adventure while enjoying the beautiful rugged Iranian landscape. Much like one of those 500 piece picture puzzles you might have been working on this past year, the film's director doles out small colorful pieces that fit together and begin to make sense amid the chaos of "the kid's" antics.
Incidentally, this is a debut film by Panah Panahi whose father's directorial feature film debut was the Iranian classic "White Balloon" (Jafar Panahi 1995). It is the humanistic style of both of these films with their subtle criticisms that somehow manages to exist within the country's authoritarian regime that I find very interesting.
"Hit the Road," presented as part of the 57th Chicago International Film Festival, is available to stream Oct 14 to Oct 24, 2021 in the following states: Illinois, Indiana, Iowa, Michigan, Minnesota, Missouri, and Wisconsin.
LANGUAGE : Farsi with English subtitles. Running time: 94 minutes
Reno Lovison