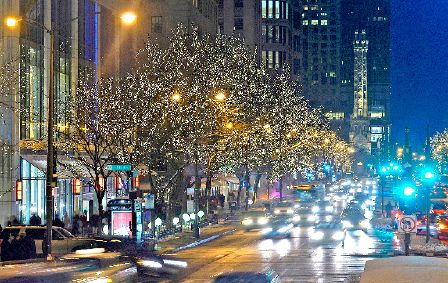 It may be hard to believe we're in the midst of the holiday season, already!
The Chicago Botanic Garden opened its paths at night for Lightscape. Santa is already listening to wishes at Macy's where the famed holiday windows are ready for their close-ups. And, Christmas Around the world and Holiday of Light opens at the Museum of Science and Industry on its free day, Nov. 17, 2021.
But don't miss the BMO Lights Festival – The Magnificent Mile this Saturday, Nov. 20, 2021 at 5:30 p.m. Folks line up two and three deep to watch lights go on as the parade moves south on Michigan Avenue from Oak Street to the Chicago River and ends with fun fireworks.
A great place to view the action would be Pioneer Court, 401 N. Michigan Ave.  You need to know, however, that the DuSable Bridge (formerly Michigan Avenue Bridge) closes at 3:30 p.m. But there are activities and food (smell Garrett's? (It's at 625 N. Michigan Ave.) along the Mile.
If you go downtown Friday, see the tree lighting at at Wrigley Building Centennial Plaza, 410 N. Michigan Ave. 4 p.m.
Related: Around Town: Two holiday doings to know about now – Chicago Theater and Arts
Jodie Jacobs