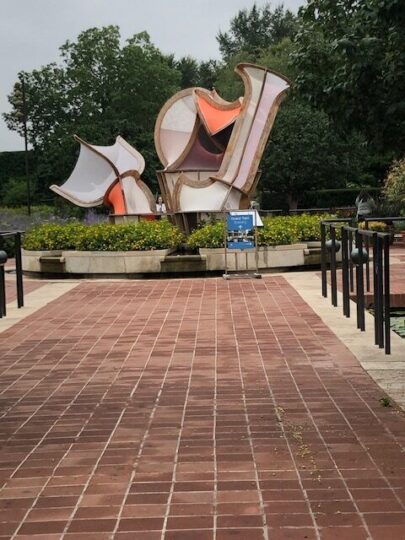 Yes lighted displays at the Chicago Botanic Garden look spectacular when Lightscape stars and sparkling plants line walkways from Mid-November 2022 to early January 2023. 
 But the Garden also amazes right now as you wander among art installations, special plant groupings and the Greenhouse Galleries packed with the garden's past and imagined future. 
The art and other special exhibits are part of Flourish, The Garden at 50," an anniversary celebration up now through Sept. 25, 2022.
Pick up a Flourish brochure at the membership/information desk near the Café, to see a map and information on 10 art installations.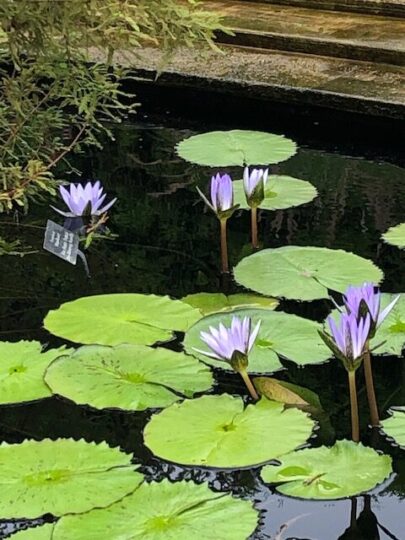 Leaving the building you are walking across a bridge to the garden's main area. Look right to see a huge nature sign on the opposite bank and then look near it further west in the water to see Casa Isle, an aluminum island house constructed by artist Edra Soto in what the Garden calls its "North Lake."
A turn south past the lily ponds brings Juan Angel Chavéz's wood and fabric Adsila sculpture into view.
Check the brochure for other art installations and then go over to the Regenstein Greenhouses for a look back at the garden's past and thoughts of its future.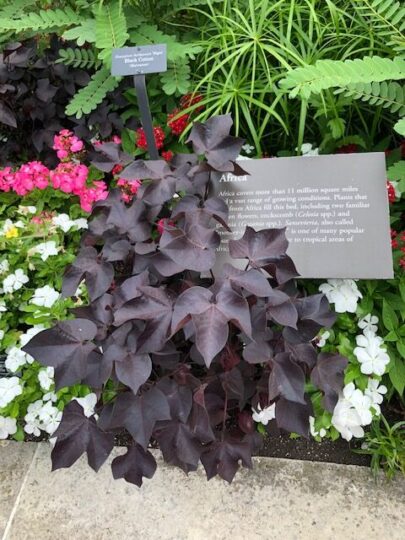 Be sure to stop at the plant installations on the path back to the bridge. They are plant groups from different countries.
To learn more about each artist, pop-up events and tours go to  Flourish: The Garden at 50.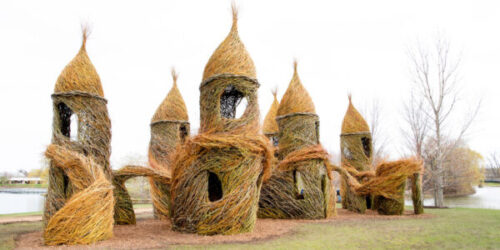 "What began as an ambitious vision to have Chicago's own public garden is now 28 gardens and four natural areas in Glencoe, 16 community garden and farm sites in Chicago and Lake County, and dozens of conservation and restoration research sites around the country," said Jean Franczyk, the Garden's president and chief executive officer.
"We are thankful to all who have shown up for nature, supported our conservation mission, and inspired us to keep imagining a future where people and planet thrive," Franczyk said.
The Chicago Botanic Garden is at 1000 Lake Cook Road, Glencoe., IL
Jodie Jacobs