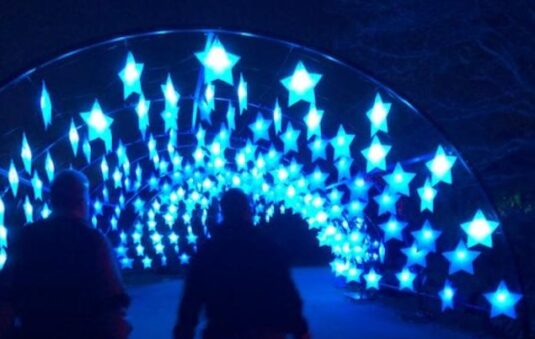 Fire, color, shapes, snowflake and kaleidoscope patterns, water features, movement, and yes, past years' popular gold-lit Cathedral, all make Lightscape at the Chicago Botanic Garden, a fun and fanciful, winter night out.  
The color-filled light spectacle starts with a large, welcoming, holiday wreath near the east end of the Botanic Garden's ticket booths. That is the first clue that the 2022 Lightscape follows a different path with some installation changes and additions to previous years.
Hopefully you have worn good walking shoes or boots. Temperatures have dipped into late November-December mode and the Lightscape path feels longer than its approximate mile and a quarter because its first half is mostly uphill.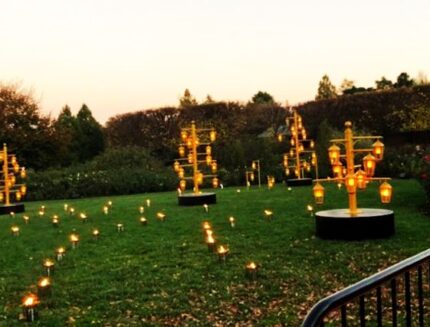 What to expect
Smart-phone cameras ready, look for a garden of fire set in Oriental style fixtures in the Rose Garden.
As you continue along the path, snap floating leaves in the lagoon near the Japanese bridges and colorful hula-style rings overhead.
Stop for a snack at an outdoor shack while checking out a color-changing mist.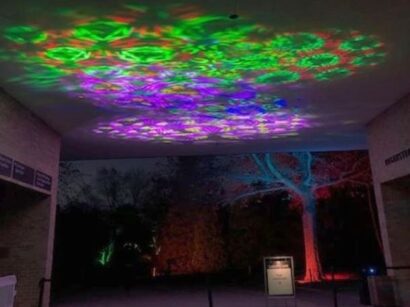 As the commercials say, Wait, there's more. After lots of turns, curves water-markers and color-lit trees, you arrive at the Kaleidoscope overhang of the Regenstein's Center. There you can cross a terrace of beautifully colored globes and end up at Nichols Hall, the indoor food area.
Back out after a calorie break, follow the "continue" path where you pass colorful flowers, walk through a tunnel of stars.
 You'll see the golden Cathedral ahead and snap companions walking through it. But next clue things have changed is you learn you are not at the end. Guides with flashlights urge you on because there's more to see ahead.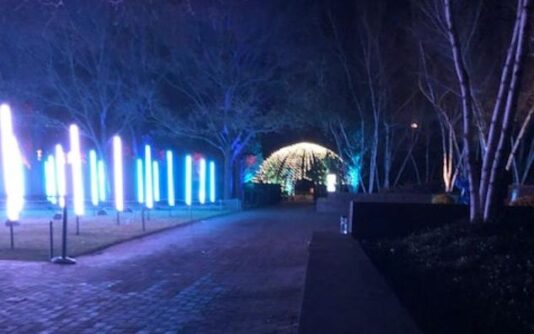 Pass the changing lights growing in a pasture between the Regenstein Center and the Pond. Follow more flashlights and paths until you're confronted by dramatic music and a huge ball of lights. You look around and realize you have to enter it to exit.
Now, you are at the lily pond area where stairs and a ramp lead down to a path to the Visitors Center and parking lot.
Tip: Check your Smart Phone because after all those photos it probably needs recharging.  
Details: Lightscape goes from Nov. 11, 2022 through Jan. 8, 2023, after 4 p.m. Lightscape entry and parking are timed tickets. Members $30, non $32. Children of members $14, non $16. Under age 2 free. Lightscape parking free to members, $10 nonmembers. 
For more info visit Lightscape
Jodie Jacobs