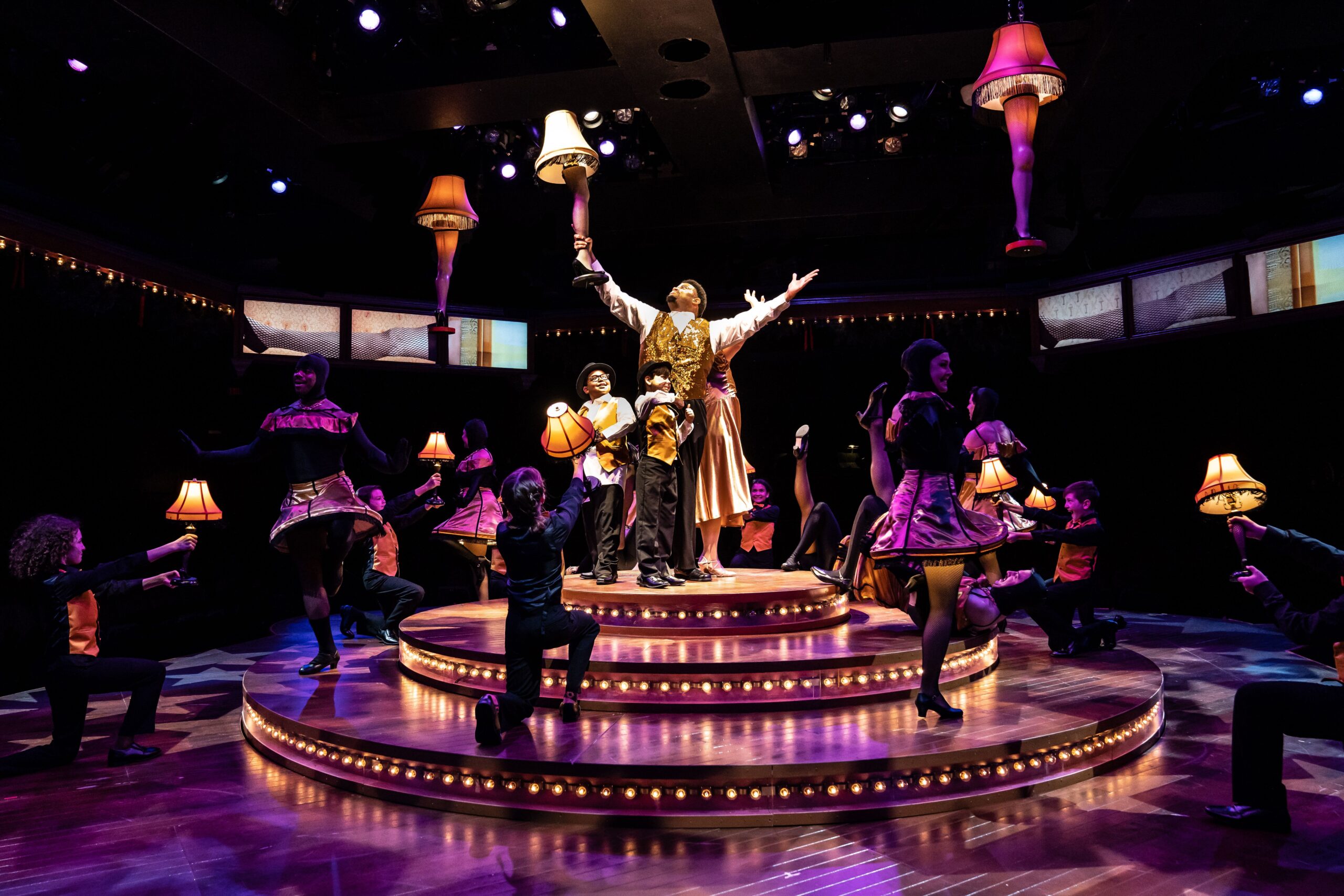 3 Stars Recommended
In a city filled with theater companies producing traditional holiday fare, Marriott Theatre has chosen a show usually seen as a film replayed on TV but seldom performed live.
First, what it's not. "A Christmas Story Is not a moralistic Dickens' style redemption piece that appeals to the whole family or a Jane Austen type upstairs, downstairs manners piece with sophisticated appeal.
Marriott Theatre's "A Christmas Story: the Musical," is a comedy that captures some of the frustrations and coping mechanisms of the middle-class, Midwestern Parker family, and particularly, those of its nine-year-old boy named Ralphie. Middle school aged kids and their parents would appreciate Ralphie's and the Old Man's challenges.
Based on a 1983 movie by Jean Shepherd, Leigh Brown and Bob Clark and Shepherd's collection of vignettes published in 1966 as "In God we trust: All others pay cash," the musical version has a book by Joseph Robinette with music and lyrics by Benj Pasek and Justin Paul.
The songs, such as "The Genius on Cleveland Street" and "When You're a Wimp," are insightful instead of memorable and hummable. 
Playing during the holiday season through Jan. 1, 2023, the show introduces another generation to Shepherd's famed, sexy "Leg Lamp" that sits in the Parker family's front window in Homan, IN.
Actually, filmed in Cleveland, OH in an old yellow house that has since been turned into a museum, the "Lamp" is still there and can be seen despite having supposedly been broken and buried during the play.
Won by "the Old Man," the Parker family dad who means well, works hard, battles neighbors' dogs and is not as smart as his wife, he is excited to receive the lamp as a "Major Award" for a contest he entered and won. To the Old Man, the lamp award redeems his self-worth.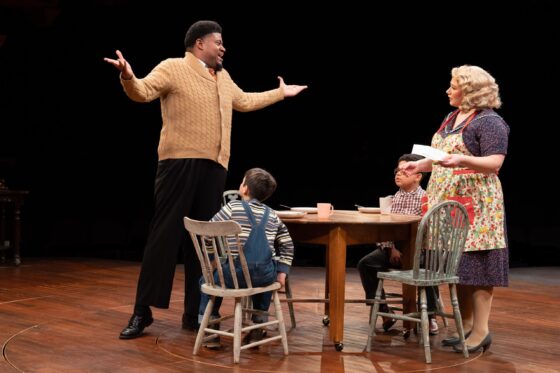 More importantly, Marriott has introduced another generation to nine-year-old Ralphie who desperately wants a Red Ryder BB Gun for Christmas. Made by the Daisy company, it is named for a heroic comic strip cowboy.
Ralphie fantasizes how he can stop the terrorizing by bullies Scut Farkus and Grover Dill of him, friends, Flick (of tongue stuck on icy pole fame) and Schwartz and classmates if he had a bb gun that looks like a Winchester rifle.
Set about the early 1940s, warnings by his mom, teacher and the Santa at Higbee's Department Store that you'll "shoot your eye out," would have been a sufficient talking point.
However, given today's anti-gun legislation and school shootings attributed to bullying, families seeing the show may either object to a bb gun that looks like a rifle or want to take the discussion several steps further. 
Directed perfectly by Scott Weinstein as both entertaining and perceptive of family and school dynamics, "A Christmas Story: the Musical" has several funny incidents, excellent character portrayals, terrific dance sequences and wonderful vocals.
Kavon Newman who has appeared on TV and New York's Radio City stage, is amazing as Ralphie
 Local theater veteran Sara Reinecke is the can-do mother the Parker family needs and has a terrific voice. Her role is well matched with that of the Old Man, delightfully portrayed by another local veteran, Lorenzo Ruch, Jr.
Levi Merlo who has a string of TV credits, is adorable as Ralphie's young brother, Randy. He will likely be remembered by audiences as the kid who couldn't move his arms or get up because of his ballooning-style snowsuit.
The fun, over-the-top character of teacher Miss Shields was deftly handled by local veteran Jenna Coker-Jones.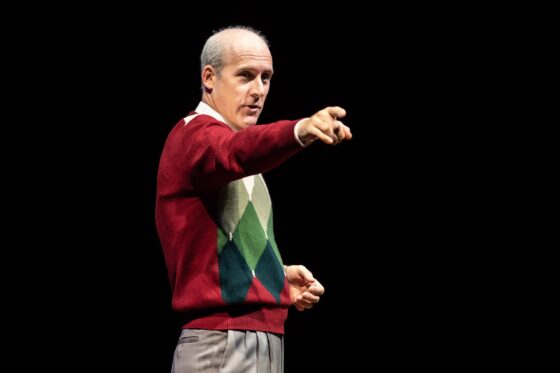 A "Christmas Story" is narrated by Kevin McKillip who as Jean Shepherd, reminisces as he somewhat relates to each scene and experience as a much older, adult Ralphie.
After seeing a very strong Marriott production of "Sound of Music" with a terrific cast of child actors, I was not surprised by the high quality of the "Kids" ensemble that appeared in several sequences.
Which brings us to Tiffany Krause's choreography. Marriott typically has superb dance numbers. But they are usually performed by the main characters backed by a dance ensemble. In "a Christmas Story," it's the talented Kids and Ralphie who primarily take center stage.
That is except for Rush, Jr's exuberant dance celebration of "A Major Award" and talented song and dance actor Jackson Evans delights audiences in the second act as the Higbee's department stores' disgruntled  Santa Clause in "Up on Santa's Lap."
A shout out has to go to costume designer Izumi Inaba for setting the period and mood.
Details: "A Christmas Story: the Musical," is at Marriott Theatre at 10 Marriott Dr. Lincolnshire, off Milwaukee Avenue just south of Rt. 22, through Jan. 1, 2023. For tickets and more information visit www.marriotttheatre.com or call (847)- 634-0200.
Note: A Christmas Story Christmas begins streaming Nov. 17 on HBO Max with Peter Billingsley reprising his Ralphie, who is now an adult, a struggling writer and the head of the Parker household.
Jodie Jacobs
For more shows visit Theatre in Chicago