Around town Holiday festivals
Plan now because it seems everything from tree lightings and light festivals are starting early this year.
Remember when we used to think the holiday season began with Chicago's Thanksgiving Parade early on "Turkey Day?" Then the Mag Mile pre-empted that with Mickey and Minnie Mouse turning on Michigan Avenue's lights north of the Chicago River, accompanied by Santa. Meanwhile, Macy's was following Marshal Field's tradition of a Great Tree, lunch in the Walnut Room and wonderful holiday windows.
Chicago area's two big zoos soon added to the holiday places-to-visit calendar with lights and animation. More recently gardens and nature walks such as the Morton Arboretum and Chicago Botanic Garden, got into the holiday spirit with color, lights and movement. Germany said, why not, so entered Chicago's holiday season with the Christkindle Market.
 Macy's liked Marshal Field's tradition so continue the Great Tree, lunch in the Walnut Room and wonderful, story-telling holiday windows.
Keeping track of what is around, when and where in the Chicago area can be challenging even when suburban and neighborhood residents mark their calendars with local tree lightings and events.  So here is a short guide to the main holiday happenings.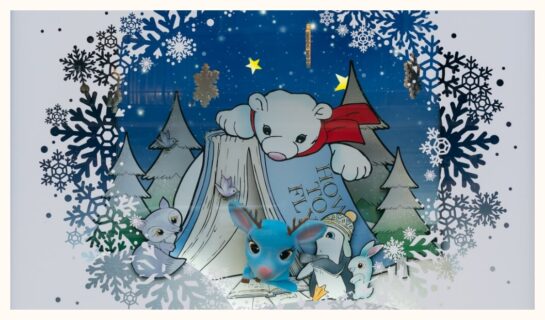 Already started early November
Macy's came out with their Great Tree Lighting, Santa visits, Walnut Room availability and windows theme the first week of November.
What to know: The Great Tree is 45 feet tall and is decorated on a toy-shop theme and is up through Jan. 8 2023. Santa Claus photo ops and wish whispers have to be reserved in advance. Santa is in his toy workshop on the Fifth Floor and reservations to visit him go through Dec. 24, 2022. The windows are already decorated and good for photos through Jan. 1, 2022.  For reservations and more information  visit Macy's Holiday Celebrations: Visit Santa & More – 2022 (macys.com)
 Macy's is at 111 N State St., Chicago.
Second week in November
The switch went on and the last installation was done when Lightscape opened to Friends and Family at the Chicago Botanic Garden Nov. 9. Opened to the public (advance tickets needed) Nov. 11, Lightscape casts a fantasy vision over paths, trees, ponds and plantings with lights and music. It continues through Jan. 8, 2023. For tickets and more information visit Chicago Botanic/Lightscape.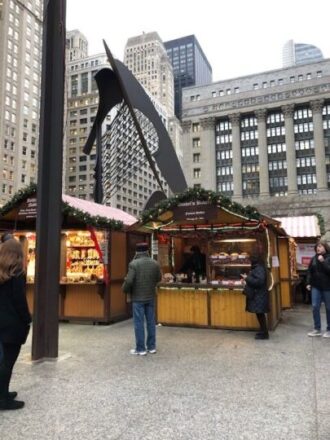 Third week and weekend in November
This is a very busy time for holiday events ranging from the city's tree lighting and a European holiday market to zoo lights and lit paths at an arboretum.
Go downtown for Chicago's tree lighting Nov. 18 in Millenium Park. It's scheduled for 6 p.m. with a pre-program at 5 p.m. The action is near Cloud Gate on the Grainger Stage. Visitors should enter at the South Promenade on Monroe Street east of Michigan Avenue. Don't expect the lighting to happen until 6:30 but stay because fireworks follow the ceremony. For more information visit City of Chicago :: City of Chicago Christmas Tree 
The German village-style Christkindl Market opens Nov. 18 a few blocks west of Millennium Park on Daley Plaza, 50 W. Washington St. A fun place to find gifts or take a yummy break from work or shopping, the Market is up through Dec. 24. For Chicago information visit Christkindlmarket | Holiday Market 2022 | Chicago
This German market is also happening in Wrigleyville at 3635 N. Clark Street at Gallager Way so visit German Christmas in Wrigleyville | Christkindlmarket and in Aurora in River Edge Park, 360 N. Broadway so visit  German Christmas in Aurora | Christkindlmarket.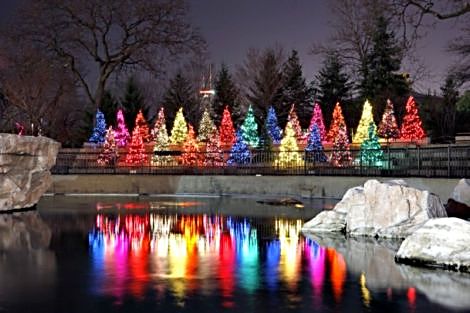 Lincoln Park Zoo spreads out just west of Lake Michigan between downtown Chicago and Wrigleyville so visitors sometimes try to couple its Zoolights with another holiday goodie.  Presented by Com Ed with Invesco QQQ,, Zoolights is an impressive display at the city's free zoo and costs only $5 a ticket for this holiday event. Zoo lights is Nov. 19, 2022 through Jan. 1, 2023. For hours, dates and more information visit ZooLights.
Also opening Jan 19 is the Morton Arboretum's Illumination. Running through Jan. y7, 2023, Illumination transforms a mile long path among trees, meadow and gardens into a fairytale land of light, sound and color. The event combines old favorites such as the Enchanted Forest and Treeimagination, with new installations such as Late Nite Electric Illumination, tall, mirrored towers and a finale in the new Grand Garden. For more information visit Illumination: Tree Lights at The Morton Arboretum | The Morton Arboretum
Wait, as the commercials say: There's more.
Last but not at all least this week is the Magnificent (Mag) Mile Lights Festival's parade and day of activities starting at 11 a.m. at 401 N. Michigan Ave. Sponsored by Wintrust, the parade begins at 5:30 p.m. Mickey and Minnie Mouse (from the Walt Disney World Resort) lead the parade as they magically turn on one million lights along North Michigan Avenue.
What to expect: floats, helium balloons, marching bands, musical performances, Santa Claus ending with fireworks at the Chicago River. The event will also stream on Nov. 20 on ABC. For more information visit MagMileLights.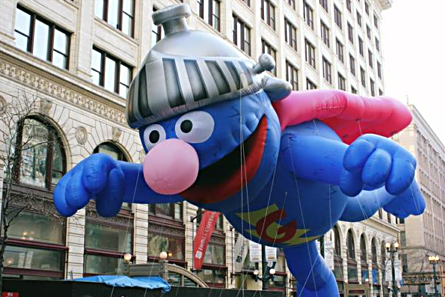 A giant helium balloon floats over State Street during a Chicago Thanksgiving Parade. (J Jacobs photo)
Fourth week and weekend in November
Chicago's Thanksgiving Parade brings the sounds of cymbals, blares of trumpets and the sight of giant helium balloons and beautiful floats to State Street, that main street, Nov. 24.
The parade goes from Ida B Wells Drive at the south end to Randolph on the north. Figure that bands and entertainment from some of Chicago's theaters could start as early as 8 a.m. and go to 11 a.m. For more information visit Chicago Thanksgiving Parade.
Holiday Magic at Brookfield Zoo starts Nov. 25 and continues on specific dates through Dec. 31 from 3 to 9 p.m. Presented by ComEd and Meijer, the zoo is a blaze with two miles of lights and colors moving to synchronized music. A new feature is a 600-foot "Tunnel of Lights" by Xfinity.
For parking, entrance and other information visit CZS.org/HolidayMagic.
Have fun
Jodie Jacobs