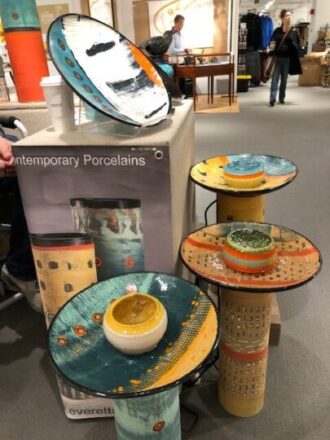 With so many fun, tasty and sparkling events now happening post COVID shutdowns it's easy to miss a couple that should be on the calendar, this year.
One of a Kind
It's an art show, a gourmet gift show and a stuffing-stocker show.
Wear comfortable walking shoes here because One of a Kind's holiday show takes up an entire floor of The Mart. It's that gigantic building on Wacker Drive and the Chicago River (222 Merchandise Mart Plaza).
Held Dec. 1-4, there are more than 500 booths to peruse ranging from photography, glass, wearable art jewelry, paintings and woodwork to tasty spices, chocolates, candies and sauces.
For tickets and more information visit One of a Kind. 
Andersonville
Home to the Swedish American Museum, 5211 N. Clark St., Chicago's Andersonville neighborhood is holds a Julmarknad holiday market, a St. Lucia Festival of Lights and a Julmiddag, the traditional Swedish Christmas smörgåsbord.
 The Julmarknad , a holiday bazaar of Scandinavian and other crafts plus Santa and entertainment is Dec. 3 from 10 a.m. to 5 p.m. and Dec. 4, 10 a.m. to 4 p.m..  
 The St. Lucia Festival of Lights is Dec. 13 with its crowning down in the Nordic House at the Wrigley Building (400 N. Michigan Ave.) at noon and the candle-lit procession in Andersonville on Clark Street beginning at 4:45 p.m. Visit St. Lucia Festival of Lights.
 Then the Julmiddag smörgåsbord is at the Museum Dec. 18, 2022 at 5 p.m. It includes a St. Lucia procession, a visit from Tomten (Santa) and dancing around the Christmas tree. Make reservations at julmiddag. by Dec. 13.
 For additional information on the Museum's Christmas events, visit swedishamericanmuseum.org. For details on other holiday events in Andersonville, visit the Chamber/Andersonville.