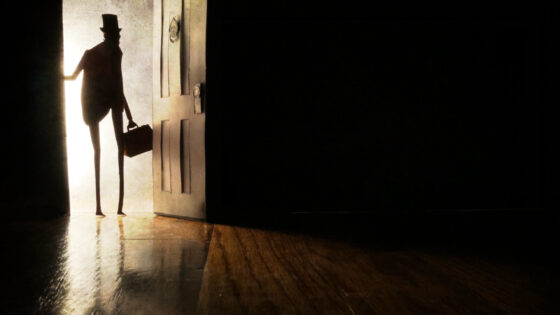 5 Stars
Hold onto the change-of-life theme of Charles Dickens' famed holiday story. But toss aside your idea of puppets and a puppet theater before walking into "Manual Cinema's Christmas Carol" at Writers Theatre in Glencoe, IL.
Manual Cinema is an award-winning film/video and live performance and design company, so be prepared for an unusual theatrical experience.
 What to expect:  Ghosts, hand-designed shadow puppets and their scenic backgrounds, a puppet theater, zoom on a computer and on an old film screen using an old projector (they call it "vintage)," a complicated sound system and outstanding acting by LaKecia Harris as Aunt Trudy.
 Aunt Trudy has been asked by her late husband Joe's relatives to do the Christmas Carol puppet show that he did annually. She says she's not really an aunt to the relatives watching on zoom since she never married "husband" Joe.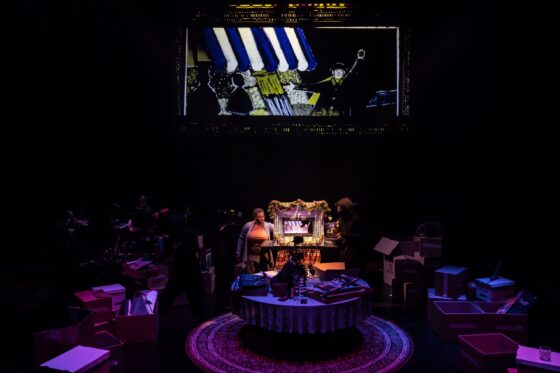 Her unhappiness loudly comes across at the start of the show. An approaching storm arrives, the power goes out, ghostly "puppets" intervene as Trudy realizes she must continue the Christmas Carol story with the shadow puppets, theater and ghosts. She, as was scrooge, is a different person by the end of the play.
 The cast is as much behind the scenes as identifiable on stage so shout outs go to puppeteers Lizi Breit, Julia Miller and Jeffrey Paschal and also to Ben Kauffman who does lead vocals, piano, keys, and voice overs, plus Emily Meyer for violin and vocals and Kyle Vegter for cello, keys, bass and voice overs. In addition, Sarah furnace is a puppeteer understudy.  
This is a must-see production because Manual Cinema brings extra layers of meaning to stories we think we know.     
 DETAILS: Manual Cinema's Christmas Carol is at Writers Theatre, 325 Tudor Court, Glencoe, IL now through Dec. 24. Running time: 70 minutes with no intermission. For tickets and more information visit Manual Cinema's Christmas Carol | Writers Theatre. For Manual Cinema info see Manual Cinema | Theater | Film | Music.
Children under age 6 not permitted.
 Jodie Jacobs
For more shows visit Theatre in Chicago