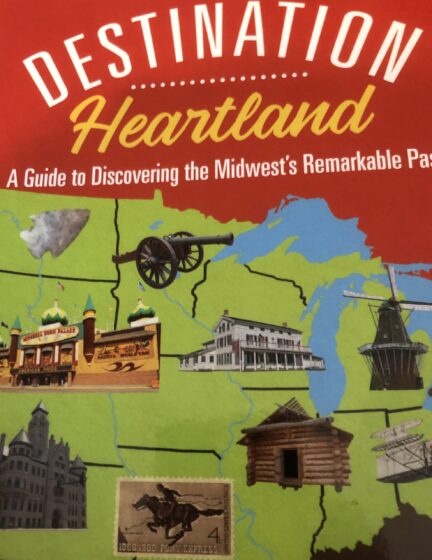 I picked up Destination Heartland: A guide to Discovering the Midwest's Remarkable Past by author Cynthia Clampitt, thinking it was a travel book. It's not. Beautifully written, Destination Heartland is a well-documented probe into historically significant places in what may loosely be defined as the middle western region of the United States of America. It a fascinating read.
If planning a driving trip across the region you may want to know what to see and where to stop along your route or where to deviate from it to catch something special. Those destinations can easily be found in the pamphlets put out by each state and in the rest stops along your route.
Many of them are in Clampitt's book but they are not grouped by state. For example: Fishtown in Michigan's scenic Leelanau Peninsula, a rewarding stop when doing the Traverse City area, is across the page from the Amana Colonies, a Germanic, culturally rewarding stop but one that is off I 80 in Iowa.
Knowledgeable about food, Clampitt includes an Amana restaurant recommendation, stating the "menu will look familiar to those who love German food from J"jagershnitzel" to rouladaden." She also includes a recipe.
Her descriptions are colorful and true. Having traveled to most of the destinations in the book, I love how her words paint the view such as in Fishtown, ""weathered wooden buildings hugging and even overhanging the water."
Another example is Mineral Point, WI where she relates its Cornwall roots  saying the miners "built Mineral Point into a prosperous town of tidy Golden buildings," (BTW Mineral Point and its golden buildings has become an artist colony and yes, it's worth a visit).
Be prepared on the next page to cross state lines west to visit Minneapolis, a city known for its mills.
For a better idea of how her destinations are organized look at the Table of Contents.
First, she speaks of the interesting origin of the word "Midwest." In Chapter 2, Clampitt invites readers to "Living History Venues."
Chapter 3 mentions vintage sites, historic homes and museums while Chapter 4 talks about historic towns and enclaves and Chapter 5 talks about experiencing history with reenactment and other opportunities.
As to where to stay or eat, in Chapter 6 she recommends the DeSoto House Hotel in the historic (most of the town is on the National Register of Historic Places) Galena, IL. The hotel is a fun stop with a fine staircase and political history. Plus, it is the oldest, continuously operating hotel in IL.
The next page takes readers to The Village Tavern in Long Grove, IL that opened in 1847, followed by a visit to The Whitney (mansion and restaurant) in Detroit, MI.
Clampitt unapologetically takes readers on several history field trips. Along the way, readers are treated to fine prose and good historic information. They may also want a notebook at hand to jot down some places to consider as destinations on the next road trip.
Clampitt is the author of Midwest Maize: How corn shaped the US, Heartland and Waltzing Australia. Heartland is published by the University of Illinois Press, 2022.
Jodie Jacobs