RECOMMENDED
"The Picture of Dorian Gray," playing now at City Lit Theatre, is a world premiere adaptation by Paul Edwards of the Oscar Wilde's story.
The story of Dorian Gray is a tale of moral decay and self-loathing, demonstrating the extent to which some people will go to maintain a façade and avoid looking at their true selves.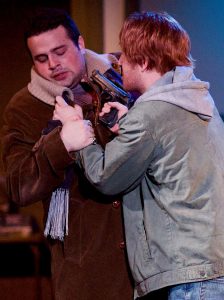 In this version, set in the 1970's and 80's, the young Dorian Gray (Javier Ferreira) exclaims to Henry Wotton(Scott Olson) that he will gladly sell his soul to keep his youthful exterior rather than suffer the ravages of physical aging.
Directed by Andrea J. Dymond, the play covers a roughly 20 year period over which time Gray seems to retain his youthful appearance while those around him either lose their attractiveness or their life. Their maladies and misadventures seem somehow mysteriously have to do either directly or indirectly with their association with the title character.
While content with his own good looks, Gray fantasizes that a photo of him taken by Basil Hallward (Gabriel Fries) early in the story has not fared as well over the years and is essentially reflecting back the effects of his misdeeds and misbehavior.
This is a drama in which the dialogue is the essence of the story. The cast was a little unsteady and awkward in the first act but thankfully gained steam as the story progressed. In Act Two Ferreira hit his stride and began to own the part.
The obviously capable Scott Olson confidently dominated the action but at times seemed to lose his compass speaking upstage, apparently forgetting that an actor can speak intimately while still projecting to the audience.
Having the actors join the theater audience during a play-within-a-play was charming and effective.
The rest of the time they could spread out a bit more and employ some meaningful stage business so that they are not simply standing over one another or huddling in little groups.
This version offers a more contemporary explanation for the iconic picture reference but in doing so sacrifices some of the sci-fi or Victorian horror of the original.
Experienced theater goers and Oscar Wilde fans may enjoy this adaptation of the classic because of some inside references to the life of the author himself and to the clever alternate handling of the infamous picture but it may be a bit tedious for some.
Chicago Theater & Arts fans might want to consider a visit to the Chicago Art Institute to visit the Ivan Albright portrait painted for the Oscar-winning movie adaptation of Oscar Wilde's novel.
DETAILS:  "The Picture of Dorian Gray" is Paul Edwards's world premiere adaptation of the Oscar Wilde's story directed by Andrea J. Dymond running now through April 15, 2018 at City Lit Theatre, 1020 W. Bryn Mawr Avenue, Chicago (Inside Edgewater Presbyterian Church).  For ticket and other information call (773) 293-3682 and visit citylit.org.
Reno Lovison
For more shows visit TheatreInChicago