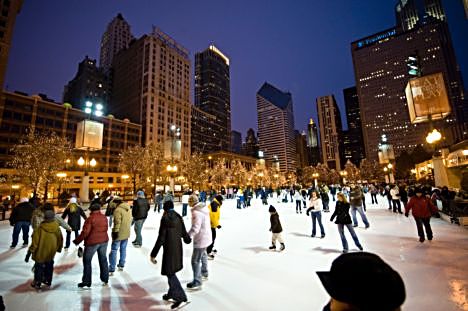 If guests are in town for the holidays or enjoying Chicago's festive downtown before the season ends is on the do list, think skating near skyscrapers, colorful lights, holiday trees. Think Downtown Chicago. Two ice rinks are in or next to Millennium Park and one is a short distance away at Navy Pier. Bring skates or rent them.
 McCormick Tribune Ice Rink
Operated by the City of Chicago's Department of Cultural Affairs and special Events, the Millennium Park Foundation and presented by Hilton, the McCormick Tribune Ice Rink has free admission. However, skaters need to reserve a time. Very few time slots may be available at the last minute. Sessions are 90 minutes.
The rink has been up since mid-November and continues through March 5, 2023, weather permitting. It's at 11 N. Michigan Ave. between Randolph and Monroe Streets.
Skaters are requested to arrive 45 minutes before their reserved admission time. Snacks and hot drinks are available in Momentum Coffee and Millennium Hall. For Thursday through Sunday and holiday sessions at 5 p.m. and later, entrance is at a Security Checkpoint. For weather closure updates check Millennium Park's facebook and twitter pages.
Skate rental is $20. More info and visit planning at Chicago.gov/millennium info and Dept. Cultural Affairs and Special Events.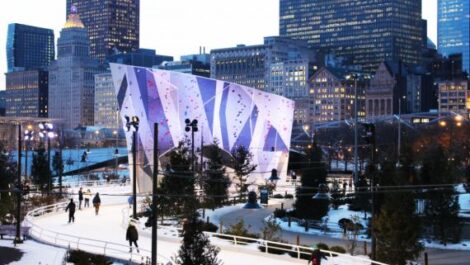 Maggie Daley Park
 Run by the Chicago P:ark District, MDP's Skating Ribbon is at 337 e. Randolph St. and is also accessible from a bridge crossing Columbus Drive and the nearby bike path.
Skate rental with admission is $16 on line and $18 walk-up Monday through Thursday. Sessions are free those days if b ringing your own skates. But prices are higher weekends and holidays.
 For more info, time slot reservations including rolling ticket release dates and costs visit Ice SkatingRribbon. Park & Ice Ribbon Management: 312.552.3000 · Fieldhouse: 312.742.3918.
Navy Pier Alpine Ice Skating Rink
The Pier's ice rink is part of "Light Up the Lake" festival on now through Jan. 7, 2023.. Bring skates or rent them, There's no charge beyond the festival admission of $15 for adults and children. Lockers are also available. Area is not for photo and flashing light sensitive visitors. Online tickets needed.
For more information visit Light up the Lake/Navy Pier.
Jodie Jacobs