Maple syrup, yum. We love it on pancakes or dripping on French toast or sweetening what is cooking. But no matter how the syrup is used, in spring we celebrate it because that is when the sap turned into syrup rises in maple trees.
Luckily, forest preserves' educators can tap the trees to capture sap, take visitors on hikes to see the tapping, taste the sap, explain how it is turned into syrup and say how much sap is needed for even a little bit of syrup.
Where to go
In Lake County, IL, the Lake County Forest Preserves' educators and volunteers lead Maple Syrup Hikes through the Ryerson Conservation Area in Riverwoods.
"Educators are prepping a full slate of programs taking place in March," said Director of Education Nan Buckardt. "We are looking forward to offering both in-person and virtual programs this spring."
In-person, public Maple Syrup Hikes are offered Saturdays and Sundays, March 5–20, at Ryerson Conservation Area. Lasting one hour and held outdoors, the hikes run every half-hour from noon to 2 pm and are open to all ages.
Environmental Educator Jen Berlinghof noted that the temperature dictates what visitors will see along the trails. "The timing for tapping maple trees comes down to temperatures above freezing during the day but still below freezing at night, Berlinghof said. She added that other factors include precipitation and the hours of sunlight in a day.
Berlinghof explained that changing temperature causes the sap to surge upward from the roots toward the branches, where it helps the leaves grow and the buds bloom. Then in summer, the leaves will produce more sap, which will settle back down in the roots come winter.
"Visitors are able to witness the wonder of turning sap from sugar maple trees into sweet maple syrup. All registered participants can have a taste," Berlinghof said.
Tickets for Maple Syrup Hikes are required. Hikes fill up quickly, so register early. Cost is $6 per person. Children ages 3 and under are free. Purchase tickets online or call 847-968-3321. Special sessions designed for scouts or other large groups are also available. Call 847-968-3321 to register a group.
"If your family is ready to hit the trails, we are providing free self-guided Maple Syrup Hikes from March 21–31," Berlinghof said. "Through informational signs, you'll learn the science behind how trees make sap and how we turn that sap into real maple syrup as you walk along the designated trail at your own pace," she added.
Visit education programs and register online at LCFPD.org/calendar or call 847-968-3321. The Ryerson Conservation Area is at 21950 North Riverwoods Rd., Riverwoods,IL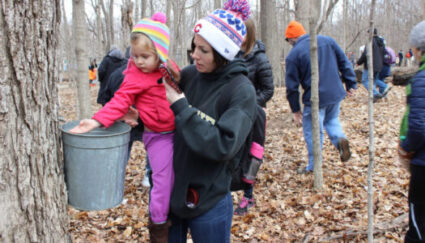 In Cook County, the Forest Preserves of Cook County hold virtual and in person sap programs at the River Trail Nature Center.
The first one is a live, free virtual program. See it and find info at Facebook Live from River Trail Nature Center 847-824-8360.
Called "Sap's Rising," The in-person programs are every Saturday and Sunday at 10:30 a.m. and 1:30 p.m. beginning February 26 at the River Trail Nature center, 3120 Milwaukee Ave., Northbrook, IL. They will continue through March 19 at 1L30 p.m. For the March 19 event Vist Sap's Rising,March 19.
River Trail Nature Center is at 3120 Milwaukee Ave Northbrook, IL. (Currently masks required indoors and unvaccinated visitors need them outdoors. But check when making a reservation.)  Reservations are required. Call River Trail at 847-824-8360.
Jodie Jacobs