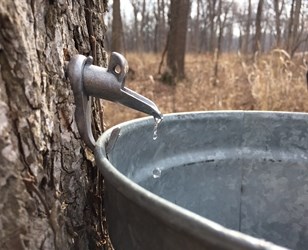 Even though the weather has been wavering between what has been balmy for February and normal chilliness, maple trees at Ryerson Woods in Riverwoods, IL have been ready to be tapped.
Which means the Lake County Forest Preserves' maple season starts now with a festival Feb. 25 at Ryerson followed by maple syrup family hikes the first three weekends in March. In addition are a program for seniors and then a Spring Break program the last week in March. 
Why tap now?
"You need days above freezing and nights below freezing. The sap was stored in the tree over the winter. Now you get a big rush as the pressure moves it up the tree," said LCFPD Environmental Educator Jennifer Berlinghof, maple syrup programming coordinator.
Berlinghof explained that the sap travels up the xylem (plant's vascular tissue that moves the sap of water and dissolved minerals up from the roots). 
She noted that even though the current period for the maple syrup temperature change was "anything but typical," the forest preserves' staff were able to tap enough to have small tastings for families who sign up for Maple Syrup Hikes. 
How much sap?
Berlinghof estimated that 40 gallons of sap are needed to produce one gallon of syrup.  To bring home the point, she said that Ryerson has several containers stacked around the district's evaporator where they boil out the sap's water content to produce the syrup. 
What to expect?
Families who register for the hour-long hikes go past sugar maple trees hear about the process and learn about drilling a hole to get sap. "The trees have already been tapped," Berlinghof said, but she added that participants could see what it is like by drilling on the logs.
The hikes go to the where the sap is boiled down to syrup and, of course,  participants get a taste of the final product.
Maple Syrup Festival
First is the free Maple Syrup Festival at Ryerson Woods, 21950 North Riverwoods Rd, Riverwoods, Saturday, Feb. 25, 2023. Running from 9 -11 a.m., no registration is needed. Activities are inside the Ryerson Woods Welcome Center and outside on the trails. Daisy from WTTW Nature Cat will be there.
Maple Syrup Family Hikes
Hikes are Saturdays and Sundays, March 4 to March 19. They start every half-hour from noon to 2 p.m. from the Ryerson Woods Welcome Center and are led by Lake County Forest Preserves educators. Open to all ages, tickets are $6 per person. Children ages 3 and under are free. Spaces fill quickly. To register and obtain a ticket go to lcfpd maple syrup and scroll to the date you want or call (847) 968-3321. Scout and other groups can make special arrangements.
Spring Break Syruping
Learn about the collecting and making of maple syrup March 28, 11 a.m. to noon at Ryerson Woods. Register at Spring Break Maple Syruping. Limited attendance. Tickets $6, ages 3 and under free.
Senior Maple Syrup Hike
A hike for seniors age 62 and older is March 30 from 11 a.m. to Noon. Free to Lake County residents, tickets are $3 for nonresidents. Register at Senior Series. 
For more information e-mail AskAnEducator@LCFPD.org, call 847-968-3320 or go to Edward L. Ryerson Welcome Center.
Jodie Jacobs