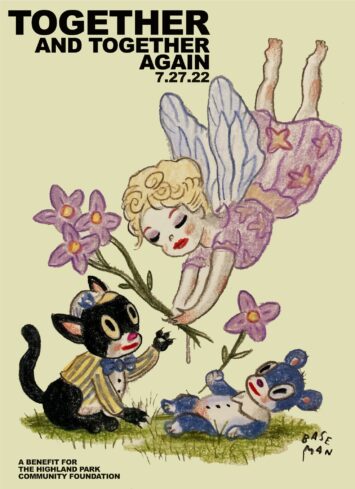 If you pass Madame ZuZu's, a café/tearoom and music event space on First Street in Highland Park, IL, you will see a sign with an angel and a couple of cute animals that says "Together and Together Again" (7.27.22).
The sign is an invite to a virtual benefit concert put together by ZuZu's owner, Billy Corgan and partner Chloé Mendel, for the Highland Park Community Foundation.
Yes, it's the North Shore town that never expected its July 4th parade to be on the news for a mass shooting. And yes, Corgan, frontman of Smashing Pumpkins, is an HP resident.
To be held July 27, 2022, 8 to 10 p.m., the concert will include, among others, Corgan, Smashing bandmate Jimmy Chamberlin, Frank Catalano (Jazz sax), the Bob Moses duo of Tom Howie and Timmy Vallance and the classical Lincoln Trio. Other entertainers will be named later.
Attendance and items to purchase are virtual through the Smashing Pumpkins YouTube site. For more info visit Zuzucafe.com event.  Zuzu's is at 1876 First St., Highland Park, IL.