With such top drawing festivals and names as Pitchfork, Windy City Smokeout and Jimmy Buffett (among several others) filling  parks and fields all over Chicago this past weekend, you might think that a north suburban music outpost would not be jammed.
Yet Ravinia Festival in Highland Park packed them in for James Arthur, Fitz & The Tantrums and OneRepbulic, Saturday, and its Tchaikovsky Spectacular played by the CSO, Sunday.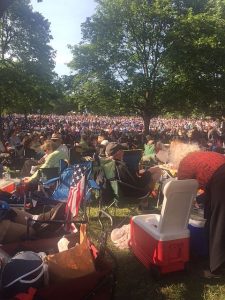 "Every inch of space and lawn was filled," said a One Republic fan describing the Saturday scene.
If understandable for the pop rock genre, it might have come as a surprise to classical music lovers that the same was true on Sunday as visitors kept filing in and looking for even a few inches to sit and picnic.
The luckier folks, or make that those in the know, staked out their space two hours ahead of Sunday's early, 5 p.m. concert start.
Spread out with a yummy-looking picnic under the trees before the crowds descended were The Nelson family who came from Chesterton and  West Lafayette, IN and from Evanston.
"We all came last year," said Wendy Nelson, Evanston. The rest chimed in with "We enjoyed it so much wanted to do it again," said Laura Nelson, West Lafayette; "You know, Purdue University," husband Jeffrey said. They were there with parents Eileen and Roger Nelson, Chesterton. "I'm the patriarch," said Roger.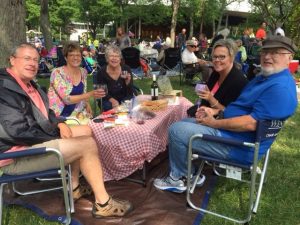 By 4 p.m. the lawn was a sea of humanity. After the Romeo and Juliet Fantasy Overture, a sterling piano performance of Concerto No. 1 by Simon Trpceskiand and the Francesca da Rimini fantasy, came the 1812 Overture with real cannons in a roped off area.
When the smoke faded and the last note played, some people left to catch the Union Pacific North Line train but that didn't make much of a dent in the crowd that still enjoyed getting together and picnicking on the lawn.
"Great concert," said a guy from Glen Ellyn on his way to the parking lot.
Well, there are a lot more chances to come to Ravinia, this summer.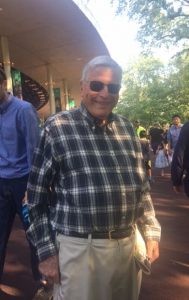 The CSO returns July 18 with Yefim Bronfman playing Brahm's Piano Conderto No. 2. The orchestra which makes Ravinia its summer home, will be back for several more concerts including July 20-21 to play Beethoven and Sibelius programs.
BTW, Tony Bennett returns Aug. 4. Hootie & the Blowfish founder Darius Rucker is at Ravinia the next night, Aug. 5.
Santana, the famed guitarist of Latin, rock an jazz fusion, is there Aug. 11-12  and  heartland rocker/rock and roll hall-of-famer John Mellencamp is coming for the first time to Ravinia Aug. 26-27.
Ravinia Festival is at 418 Sheridan Rd., Highland Park. For more schedule information, tickets, prices and parking, call (847) 266-5000 and visit Ravinia.