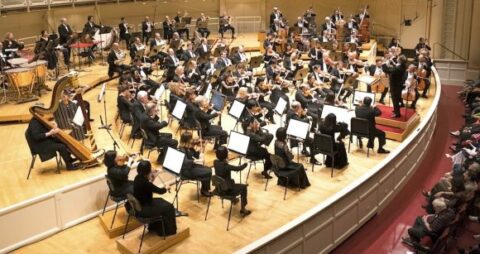 I can't promise that your eyes won't tear as you watch Stehanie Jeong, the Chicago Symphony Orchestra's Associate Concertmaster, stand elegantly but alone in  an empty Orchestra Hall.
The talented violinist is introducing viewers to "Sounds of Celebration: An Evening at Home with the CSO," a fundraiser that aired Oct. 24 but that can still be seen.
However, I can promise an entertaining evening that includes, among others Maestro Muti talking about how he misses his CSO family and  Yo-Yo Ma, explaining what the orchestra means to him while he accompanies two  rising cellists in separate videos.
Other voices and performers included Cynthia Yeh (principal percussion) playing Elden "Buster" Bailey's "Two sticks in search of a waltz" and Concertmaster Robert Chen playing a Ravel sonata for violin and cello with  principal cellist John Sharp plus appearances by Herbie Hancock, Mitsuko Uchida, Anne-Sophie Mutter, Hilary Hahn and Anita Rachvelishvili.
To see the event click CSO.org/tv then scroll way down to "Sounds of Celebration" and click "watch now."
The CSO tv site is a good one to bookmark because it has links to concerts in the Sessions series that ranges from a virtual recital of the Lincoln String Quartet performing Dvořák's String Quartet No. 12 and a program of CSO members playing Mozart and Tchaikovsky.
Each session is on for a limited, date specific time. They cost $15 a ticket but can be obtained at a discount with the series. And viewers' seats are unobstructed. And they support the CSO.
Jodie Jacobs