Clad in signature vanilla sports jacket and broad grin, Bennett entertained cheering crowds inside Ravinia's Pavillion and around it on the jammed lawns, Friday, a day after turning 91.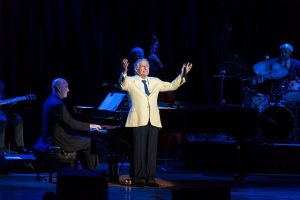 "I travel all over but this is my favorite place," Bennett told the crowd. Indeed, Ravinia Festival is where Bennett has been coming on or day after his Aug. 3 birthday.
Starting with some fine jazz from The Tony Bennett Quartet followed by  a few songs from daughter Antonia Bennett, the iconic pop star was introduced as he's been in recent concerts by the voice of mentor Frank Sinatra saying he's "the best."
After a long standing ovation, the crowd was treated to one notable Bennett hit after another from "Boulevard of Broken Dreams" and "Someone Who Needs Me"  to "Who can I Turn to," "Because of You and "The Shadow of Your Smile."
Some were just a few lines such as "Rags to Riches." Most others were the whole song.
Sometimes his voice was pure, sometimes, raspy, but Bennett showed he still had it with terrific voice control in amazingly long-held notes. Also, there were nice repeats of key words in his emphatic style as in "The Way You Look Tonight. Tonight! Tonight!"
He did a great "One For My Baby (And One More For The Road)" with jazz, pop and classical pianist Tim Ray sitting in for this season tour regular Billy Stritch.
Ray, who has accompanied Aretha Franklin and Bonnie Raitt and played with Rufus Reid and with the Boston Pops was fun to watch and listen to during solo turns on the piano.
The concert wasn't all pop. Bennett moved to jazz with "Stepping Out With My Baby" with Ray, as Bennett pointed out, in the style of Duke Ellington.
The blues feeling came with a gorgeous "In My Solitude" done with Bennett's long-time guitar player, Gray Sargent. Bennett and Sargent did several songs together as a well-matched pair.
Also good to hear were quartet regulars Marshall Wood on bass and Harold Jones on drums in brief shout-outs.
Then there were the audience chuckles as when Bennett started in with "As I approach the prime of my life" in the fine song, "This Is All I Ask."
It ends with the wonderful words that seem to sum up this multi grammy-winner's staying power: "And let the music play, As long as there's a song to sing, and I will stay younger than Spring."
But with the last words of what some consider his signature song, "I Left My Heart in San Francisco," the lights came on and the audience applauded thinking the concert was over. However, Bennett continued the joyous evening with a couple more songs.
When it ended for good, the Pavilion audience kept standing and applauding as Bennett left the stage but encores were not to be. Except for short band solos and riffs, he had sung straight through from 9 to 10 p.m. with seemingly endless energy.
And it was easy to believe the final lyrics of "This Is All I Ask."