HIGHLY RECOMMENDED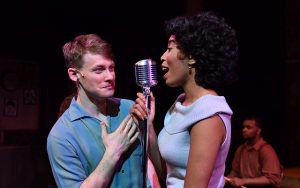 There's a long list of reasons to see the wonderful musical, 'Memphis,' a story of rock 'n roll in the 1950s at Porchlight Music Theatre.
The dancing is incredible. The singing is fantastic. The acting is superb. But wait . . . there's so much more.
A Tony Award-winning Best Musical with lyrics and music by David Bryan and lyrics and book by Joe DiPietro, the story takes place in underground nightclubs in Memphis, TN.
The audience is swinging and swaying when the music begins playing but as the story continues many important issues are revealed.
Huey Calhoun, played by Liam Quealy, is loosely based on DJ Dewey Philips, a new white voice on Memphis radio in the 1950s.