The images that come to mind following the stock market crash of 1929 and resulting economic collapse are breadlines. However, those images are not replayed in "America After the Fall," a new, temporary exhibit in the Art Institute of Chicago's Modern wing.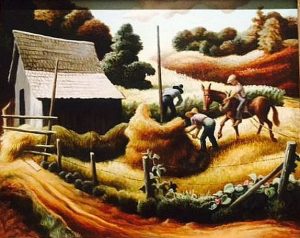 What you see are how artists of the period reacted and how the depression resulted in a variety of artistic expressions.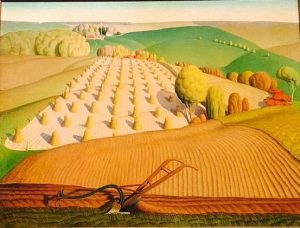 You see paintings of rural America by regionalists Thomas Hart Benton, Grant Wood and John Steuart Curry to reaffirm a way of life. In Benton's Haystack, you see his typical rounded style portraying farm workers' connections to the land and agricultural production. In the same vein, is Grant Wood's Fall Plowing with calming pastoral farm patterns.
But there is also Edward Hopper's 1939 New York Movie, which can be interpreted as introspection and quiet or loneliness (the female usher) amid a crowd.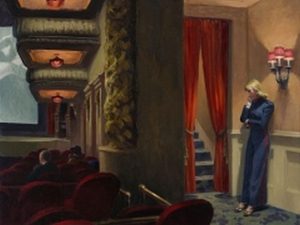 Also look for paintings of social realism, industry, workers and even entertainment. The exhibit is divided into "Retreat to the Land," "Industry and Labor," Urban Entertainment," "Modernism Redefined," and "History Renewed."
In Roustabouts, Joe Jones depicts African Americans working under a white supervisor. In another section, modernist Stuart Davis does a collage of geometric forms in New York-Paris No. 3.
The  exhibit will be taking its many messages and some paintings never  seen abroad, to the Musée de l'Orangerie, Paris and the Royal Academy, London.
Tip: There is a lot to see and think about so after going through the exhibit once, go back and look again. "America After the Fall is an exceptional exhibit of approximately 50 paintings.
Details: "America After the Fall" is at the Art Institute of Chicago, 111 S. Michigan Ave., Chicago, IL 60603, now through Sept. 18, 2016. For admission and other information call (312) 443-3600 and visit AIC. http://www.artic.edu/exhibition/america-after-fall-painting-1930s