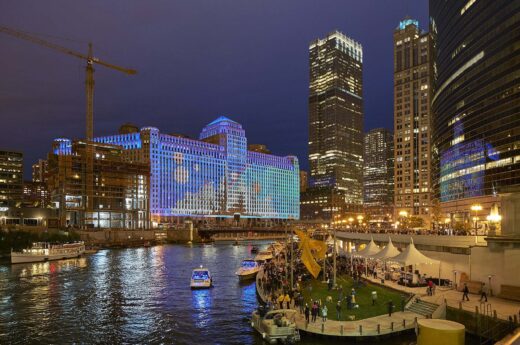 It's not about a guy named Art but a broad cultural happening.  COVID restrictions from 2020-2022 must be over because April 2023 has all of a sudden become Art Month in Chicago.
First, EXPO Chicago, once a big fall event centered at Navy Pier and that later moved to late Spring, is going on right now across the city's art venues as Expo Art Week,  April 10 through April 16. BTW, EXPO is a shortened version of International Exposition of Contemporary and Modern Art. 
Secondly, Art on the Mart is premiering its new season/year Friday, April 14, after sunset. 
And third but not last, the Art Institute of Chicago is showing "Salvador Dali: The Image Disappears," a major AIC exhibition now through June 12.
ART EXPO WEEK
Working with Choose Chicago, the city's tourism site and Chicago Department of Cultural Affairs and Special Events known as DCASE, EXPO Chicago's Art Week has what it Featured Alignments with museums, galleries and hotels. See the list plus Screenings and South Side Openings + Events at After Hours events at Featured Alignments. 
Art on the Mart
Actually written as Art on theMart, the display is considered the largest permanent digital art projection anywhere. It is a projection of contemporary and classical art on the 2.5 acre façade of theMART facing the Chicago River. Beginning April 14, 2023 it will feature "Funtime Unicorn: Ruby Rides through four Seasons. Beginning in May and going through the fall is Nick Cave, Ba Ba Boom.
AIC presents Salvador Dali: the Image Disappears
The Dali exhibition is the museums' first, in depth presentation of the Spanish artist's surrealism works and primarily features his 1930's period. For hours and tickets information visit AIC.
Jodie Jacobs