HIGHLY RECOMMENDED
The Lyric Opera of Chicago has opened its 2016-17 season with a remarkable Das Rheingold. Surrealistic set design and creative direction has produced an introduction to Richard Wagner's Ring cycle (The Ring of the Nibelung) that is as much a theater experience as it is opera. But glorious voices and Wagner's stirring music remind audiences that Wagner's combination of German and Norse myths-based epic tales of gold, greed and gods is indeed, exciting, dramatic opera.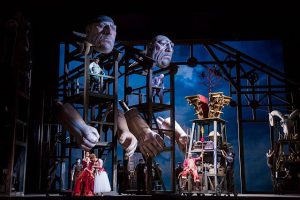 The Lyric's new production opens with the gold that is going to cause all the ensuing trouble being placed on a subterranean floor. Listen for the drone of a low E flat that builds with variations of the E-flat major chord to designate the Rhine's movement. The Rhine  is defined by the type of pulsating fabric that has become a popular device to represent water.
The gold will soon be guarded by the three Rhinemaidens: Woglinde, Wellgunde and Flosshilde.
What hasn't been often seen is the use of three of the type of cranes or jibs used in film production to support each of the Rhinemaidens so they look like they are swimming as they tease Alberich, the Nibelung dwarf.
To avenge them for his hurt pride he forsakes love to steal the gold, and learn its spell so he can forge it into an all-powerful ring.Korean bass-baritone Samuel Youn's deep, full voice and mannerisms are perfect for Alberich.
Soprano Diana Newman (Woglinde), soprano Anna Rosen (Wellgunde) and mezzo-soprano Lindsay Ammann (Flosshilde) are delightfully graceful, provocative Rhinemaidens.
The handling of their swimming with jibs is your clue that Das Rheingold, directed by David Pountney with original set design by the late Johan Engels and carried foreward by Robert Innes Hopkins will be an out-of-the-ordinary production. The show is peopled by faceless "stagehands" who move the jibs and later, the giant's towers and other set pieces.
The next scene is outside of Valhalla from which Wotan, the King of the Gods, expects to reign. His wife, Fricka (goddess of marriage) is agitated by its completion because the two giants, brothers Fasolt and Fafner who built it, were promised Fricka's sister, Freia (goddess of beauty, love and youth) as payment.
The celebrated bass-baritone Eric Owens is Wotan. He has fine tonal quality but his voice seemed to become somewhat muted in parts of the Lyric stage. The question is was he deliberately understating his power?
Mezzo-soprano Tanja Ariane Baumgartner as Fricka skillfully tempers her arguments so she doesn't come across as a nagging wife.
The giants are astonishingly conceived as huge heads atop two scaffolding-style towers. Near the top of one tower is Wilhelm Schwinghammer, a bass-baritone who is excellent as Fasolt. On the other is Tobias Kehrer as Fafner, a fine bass whose voice is mostly heard later.
Soprano Laura Wilde as Freia fearfully watches the arguments from her raised, fenced-in garden of apple tree and golden apples.
Loge, the demigod of fire portrayed with incredible acting and singing by tenor Stefan Margita, comes to the rescue with a plan to steal back the ring and gold to use as ransom. Speaking of stealing, Margita's talent is comparable to child prodigies who steal the scenes.
In Scene 3, Margita takes Wotan below ground to Nibelheim where the now golden-clothed Alberich reins over his brother, Mime, tenor Rodel Rosel. Alberich's slaves mine and forge gold there with robotic-like movements cleverly choreographed by Denni Sayers.
Wotan and Loge trick Alberich into showing off. The dwarf turns himself into a dragon then a toad that is more easily captured. After losing everything, including an arm in this production, Alberich puts a curse on the ring. Its curse carries through the remaining parts of the cycle even though Das Rheingold was written last. Wagner wrote it as a Prelude to tell how everything was in the beginning before the curse.
The mined gold and the ring are brought back to an area outside of Valhalla in Scene 4 where more bargaining takes place with the giants. They are reluctant to give up Freia and the young goddess also appears reluctant to leave the giant, Fasolt.
However, the chilling path to destruction starts in Das Rheingold as the two giants fight over the gold and ring.
Applause has to go to the lyric's orchestra and Conductor Sir Andrew Davis. Together they bring us Wagner with a grand, exciting and dramatic interpretation.
Sung in German with English subtitles, the Ring cycle (Der Ring des Nibelungen) will continue with the remaining three parts: Die Walküre (The Valkyrie), Siegfried, and Götterdämmerung (Twilight of the Gods) each of the net three years ending in 2020.
Details: Das Rheingold is at the Civic Opera House, 20 N. Wacker Drive, Chicago, IL, now through Oct. 22, 2016. For tickets and other information call 312-827-5600 and visit Lyric.