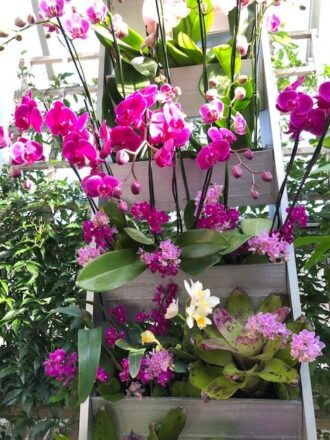 Orchids
Last opportunities to pick up orchids at the Chicago Botanic Garden: Market Place \Weekend with venders is March 25-26 from 10 a.m. to 4 p.m. The Post Orchid Show Sale filled with plants from the show is March 30 from 9 a.m. to 4 p.m. The Chicago Botanic Garden Orchid show is through March 26 from 10 a.m. to 4 p.m. The Garden is at 1000 Lake Cook Road, Glencoe, just east of Edens Exp. For tickets and more information visit Chicago Botanic Garden Orchids Magnified. Related: Up close with orchids.
Unusual opera opportunity
A chance to see a groundbreaking multi-course opera at the Lyric opens March 24 but ends April 8.  "Proximity," a 2 and 1/4 hour production that presents three short operas together, "The Walkers, "Four Portraits" and "Night," are at the Lyric Opera of Chicago on only four dates from March 24 to April 8, 2023.   "Walkers" deals with gun violence while "Four Portraits" connects to technological impacts and "Night" looks at the natural world's fragility. For tickets and information, call 312.827.5600 or go to lyricopera.org/proximity.
Penguins
 Now is a great time to visit the Shedd Aquarium because the Rockhopper and Magellanic penguins are in their annual nest-building season. Viksit Penguins | Shedd Aquarium. Shedd Aquarium is at 1200 S. DuSable/Lake Shore Drive on Chicago's Museum campus.