Chicago area theatres do their part to provide fun or spooky entertainment. A show opening this weekend in north suburban Lake Forest is geared to families. A production out in the western suburbs is best for teens and older but is also interesting by the way it asks the audience to move with each scene through an old estate. Another show that will open in mid October at a Chicago theater, will leave audiences with perhaps a different understanding of a Shakespearean tragedy. Check them out this Halloween season.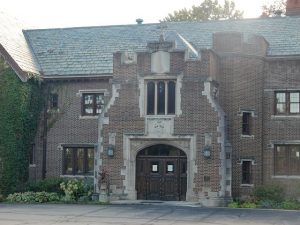 "Young Frankenstein," an adaptation of the really funny Mel Brooks-Gene Wilder film, opened the weekend of Oct. 8, 2016 at the John and Nancy Hughes Theater in Lake Forest. The production opens the 2016-17 season for Lake Forest Theatre, a new professional company that did "Secret Garden" to rave reviews last spring. Directed by Steve Malone, the show is good family fun as Dr. Frankenstein first disavows the family "business" then tries to follow his grandfather's experiments. Jokes are the usual Brooks off-color lines. The Hughes Theater is in the Gorton Community Center at 400 East Illinois Road, Lake Forest, IL 60045. For tickets and other information call (847) 604-4975, email pamila@Lake ForestTheatre.org and visit Lake Forest Theatre.
"Dr. Seward's Dracula," a David Rice production for First Folio Theatre, opens Oct. 8 at the Mayslake Peabody Estate in a DuPage Forest Preserve. The Mayslake Peabody Estate is at 31st Street and Illinois Hwy 83. For tickets and other information call (630) 986-8067 and visit First Folio.
"The Tragedy of Macbeth: Fear in the Night," by William Shakespeare and directed by Georges Bigot, opens in the Chopin Theatre Oct. 19. The production is the inaugural show of the recently formed Theatre Y Ensemble. The Chopin Theatre is at 1543 W. Division, Chicago, IL. For tickets and other information call (773) 278-1500 visit Chopin Theatre.