HIGHLY RECOMMENDED
"Tony 'n Tina's Wedding," one of Chicago's longest-running hit shows, has returned after a seven-year hiatus, and it hasn't aged a bit. The boisterous Italian nuptial farce and interactive dinner-theater engages its "guests" with servings of outrageous humor, heart-warming good cheer and just the right bit of naughtiness.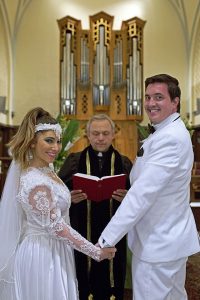 New this time around is the two-venue staging within the Belmont Theatre District. The production begins with the wedding ceremony at real-life Resurrection Church and moves for the reception to nearby Vinny Black's Coliseum AKA Chicago Theater Works.
Paul Stroili, a player in the original 16-year Chicago run, directs the 23-member cast of recognizable wedding-day caricatures. Among the ranks are an innocent bridal couple madly in love, a priest who tipples perhaps too much, a bored and pregnant bridesmaid, a despondent spurned ex-boyfriend, a helicopter mother-of-the-bride who wears black and a grandma who tells dirty jokes.
Throughout the performance, they mingle among the guests and each other, bestowing greetings, confidences and insults. Join in as much as you like. It's part of the fun.
Despite the tomfoolery, the musical soloists are serious and talented performers. Micah Spayer as Donny Dulce, the aging wedding singer struggling to hold onto his glory days, artfully carries the weight of the primarily disco and pop playlist. As a duet, Spayer and Robin M. Bousel as bridesmaid Donna Marsala deliver a strong, heartfelt "Time of My Life."
Alisha Fabbi as Tina's sister, Terry Vitale, who will soon take her final vows as Sister Albert Maria and makes sure everyone knows it, shows vast range as she closes the night with disco hit "Last Dance."
The reception site is small enough to be intimate, but the overly amplified music drowns out much of the repartee taking place on the dance floor. Hopefully, this will be adjusted. The dinner of salad, mostaccioli and cake was tasty, although napkins and plastic cutlery were in short supply.
From the time you are welcomed to the church to when the bride and groom leave for their Wisconsin Dells honeymoon, "Tony 'n Tina's Wedding" hilariously captures dozens of cringe-worthy moments. You'll breathe a sigh of relief they happened at someone else's wedding and not your own.
DETAILS: "Tony 'n Tina's Wedding" is a dual-venue production that begins at Resurrection Church, 3309 N. Seminary Ave., and continues at Vinnie Black's Coliseum (Chicago Theater Works) 1113 W. Belmont Ave. through Dec. 30, 2016. For tickets and other information, call 312-391-0404 or visit TonyLovesTina.
By Pamela Dittmer McKuen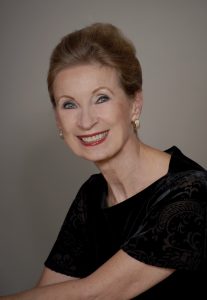 PAMELA DITTMER MCKUEN is an independent journalist and author who specializes in home, architecture, fashion and travel. Her bylines have appeared in the Chicago Tribune plus dozens of consumer, trade, association, corporate and collegiate publications. She is co-author of the tween fashion guide, "Expressionista: How to Express Your True Self Through and Despite Fashion." Visit her travel blog at: www.allthewriteplaces.com