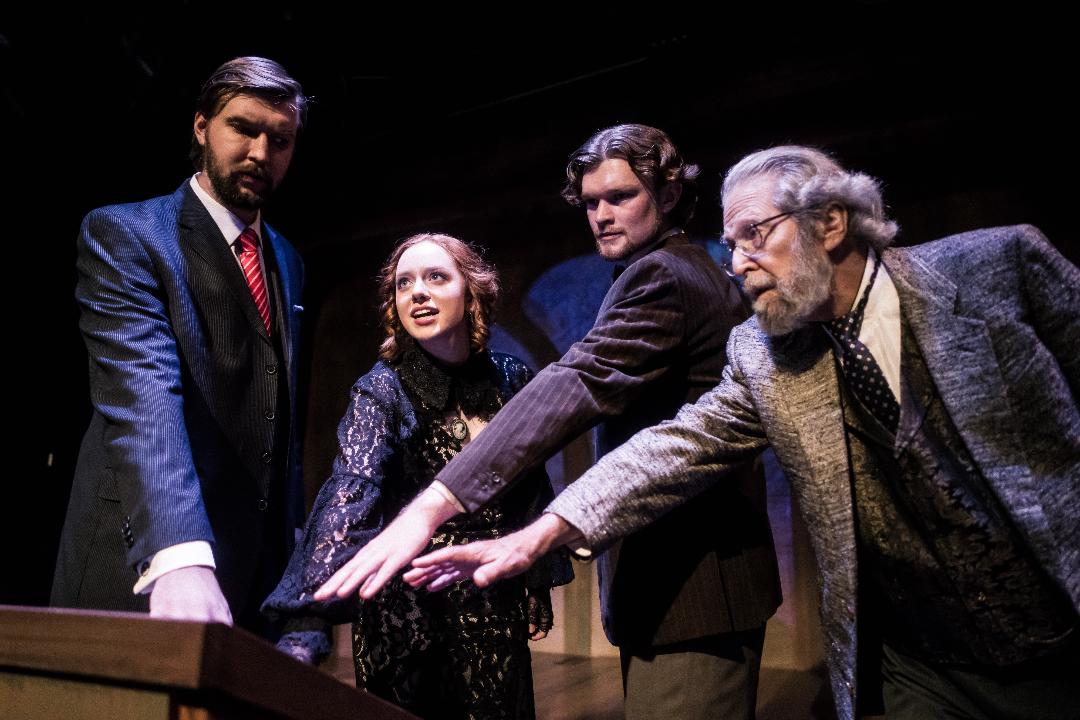 4 Stars
If your idea of summer fun included telling spooky tales around the campfire or listening to audiobooks during your cross-country road trip you might enjoy beginning the fall theater season with Brian McKnight's "Dracula," a Glass Apple Theatre production at the Raven. 
Based on Bram Stoker's 1897 novel Dracula, the production is an exciting world premiere stage adaptation of Orson Welles' 1938 radio drama "Dracula." And it is just in time to prepare your mind for Halloween.
Adapted and directed by McKnight, the show weaves an ominous adventure of suspense centered around the identity and mysterious intentions of the pale skinned Transylvanian Count Dracula portrayed by Andrew Bosworth.
The mystery drives Johnathan Harker played by Chris Jensen, nearly insane and sends his wife, Mina (Madeline Logan), to the edge of her grave.
Meanwhile, Dr. Seward (Connor Brennan) reaches out to the more experienced Dr. Van Helsing (Howard Raik) in a desperate attempt to understand what malady affects the fragile Lucy Westenra (Katie O'Neill), who was Mina's best friend and in the original story probably was the Count's first victim.
There's an eerie old castle, a graveyard, an endangered ship at sea and a number of strange boxes with their curious contents that all have to be puzzled out to save the country from the bloody curse of the undead.
This World Premiere hybrid radio-drama is performed in evocative 19th century period costumes by designer Tina Haglund Spitza (with assistance of Cheryl Snodgrass).
To add dimension to this narrated drama, it is performed in front of projected back wall imagery by scenic designer Lauren Nichols (with Alyssa Mohn).
DETAILS: Orson Welles' Dracula is onstage at the Raven Theatre, 6157 N. Clark St., Chicago, IL through September 25, 2022. Running time: 80 minutes with no intermission.  Ticket information is available at glassappletheatre.
Reno Lovison
For more shows visit Theatre in Chicago