The signs of the season are there. Macy's windows have come alive with moving characters, holiday market tents are going up in Daley Plaza, a giant evergreen is hoisted in Millennium Park and people are wondering if we should pray for cold to have good ice in the park or warm weather for good shopping.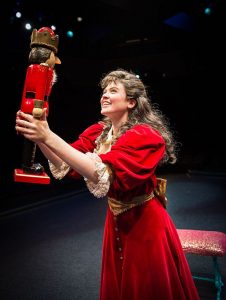 No matter what the weather holds, here are a few of the jolly, holly ways to celebrate the season in the Chicago area.
The Nutcracker … The popular holiday story of a nutcracker that comes to life but has to overcome obstacles, is weekends now through Dec. 30 at Marriott Theatre for Young Audiences, 10 Marriott Drive,  Lincolnshire., IL. For tickets and other information call (847) 634-0200 or visit Marriott Theatre.
A Christmas Story: The Musical…Go back in time to 1940 when Ralphie Parker wants a special toy gun as a holiday present.  This is the story that has the tongue frozen to a flagpole and Ralphie's nutty family. It's at Citadel Theatre Company, 300 S. Waukegan Rd., Lake Forest, IL. Nov. 18 – Dec. 18, 2016. Call (847) 735-8554 or go to Citadel Theatre.
Christmas Around the World and Holidays of Light… The Museum of Science and Industry's annual holiday celebration is back Nov. 17, 2016 with a 45-foot Grand Tree, 50 other trees decorated by  different culture groups. MSI is at 5700 S. Lake Shore Drive, Chicago, IL For information visit MSI  and MSI Christmas.
A Christmas Carol… Goodman Theatre's production is a long-time season favorite. But every year there are changes. This year there may be some added stage magic. The show is at Goodman Theatre, 170 N. Dearborn St., Chicago Nov. 19- Dec. 31, 2016. For tickets and other information call (312) 443-3800 and visit Goodman
McCormick Tribune Ice Rink… Assuming the weather cooperates (yeah warm is nice for shopping but not so great for ice skating) the rink opens in Millennium Park on Michigan Avenue between Washington and Madison Streets Nov. 18, 2016 (when the Great Tree is also lit) and continues operating through March 5, 2017.  For more information visit Millennium Park Events.