If you've lived in the Chicago area more than a year or have visited it during the holidays in past years, some shows and events spring quickly to mind when talking about traditional doings. Others are less likely to make it to the calendar simply because they're not necessarily headliners in a city rich in good theater, music, dance and art.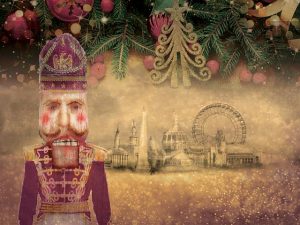 Nutcrackers
Say Christmas show tradition and the response  might be Joffrey Ballet's 'The Nutcracker.' But ticket holders should expect a different production this year.
It still will be held downtown at the Auditorium Theatre and the music is still Peter Ilyich Tchaikovsky's. However, the 2016 show is a world premier with choreography by Christopher Wheeldon who has changed the setting to Chicago's World's Fair of 1893. If you think about the Fair's pavilions from different countries and the different parts of the Tchaikovsky suite, it all makes beautiful sense.
Joffrey Ballet's 'The Nutcracker' is Dec. 10-30, 2016 at the Auditorium Theatre, 50 E. Congress Parkway, Chicago. For tickets and other information call (312) 386-8905 and visit Joffrey.
Not as heavily publicized is Ruth Page Civic Ballet's 'The Nutcracker'  performed the first weekend of December at Northeastern Illinois University. The production features dancers from the National School of Ballet in Cuba and is choreographed by Ruth Page.
This 'Nutcracker' was at NIU, 3701 W. Bryn Mawr Ave., Chicago, Dec. 3 and 4, 2016. Watch for it next year. For more information visit 'The Nutcracker.'
A Christmas….

OK, say Christmas show to someone else and Goodman Theatre's 'A Christmas Carol' will be mentioned. First on the Goodman stage when in a former Art Institute of Chicago wing in 1978, the show now boasts more than 1.2 million viewers.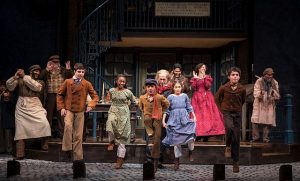 A fun number thrown out by the Goodman Theatre office is that during their production of Charles Dickens'  holiday tale, their Scrooges have said "Bah Humbug" about 23,000 times. Listen for it again this year.
'A Christmas Carol' runs now through Dec. 31, 2016 at Goodman Theatre, 170 N. Dearborn St., Chicago. To be part of the tradition, check ticket availability by calling (312) 443-3800 and visiting Goodman Threatre.
Arguable off the radar, is Citadel Theatre's annual Christmas offering. Based in north suburban Lake Forest, Citadel is a professional theater that does drama, comedy and musicals.
This year's holiday show is 'A Christmas Story: The Musical.' Taken from the 1983 movie by Jean Shepherd, Leigh Brown and Bob Clark, the show features comic dream sequences in which young Ralphie is a hero enabled by the Red Ryer Carbine-Action BB Gun he wants for Christmas. The book is by Joseph Robinette with music and lyrics by Benj Pasek and Justin Paul.
Grandparents might recall the movie because of its funny, sexy, stocking lamp leg won by Ralphie's 'Old Man.' Middle-schoolers will appreciate that Ralphie faces bullies. However, parents might have concerns about a BB gun as an ideal holiday present. 'A Christmas Story: The Musical' is at Citadel Theatre, 300 S. Waukegan Rd., Lake Forest now through  Dec. 18, 2016. For tickets and other information call (847) 735-8554  and visit Citadel.org.