HIGHLY RECOMMENDED
You don't have to be a Jane Austen fan to enjoy 'Miss Bennet: Christmas at Pemberley,' a world premier now at Northlight Theatre.
You merely have to appreciate that Austen incorporated English society's attitudes and expectations of women, marriage and social position of the late 18th century in such books as 'Sense and Sensibility,' published early 19th century in 1811 and 'Pride and Prejudice,'  published in 1813.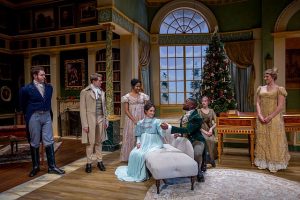 In the delightfully witty 'Christmas at Pemberley,' playwrights Lauren Gunderslon and Margot Melcon, have emulated Austen's style and sharp observations to bring back the Bennet family, particularly Mary, a Bennet sister of negligible interest in 'Pride and Prejudice.'
It helps to recall that the Bennets had five daughters, that Mr. Charles Bingley was attracted to the eldest girl, Jane, and that Mr. Fitzwilliam Darcy and second daughter, Elizabeth, continually clashed.
In 'Christmas at Pemberley,' you find Mr. and Mrs. (Elizabeth) Darcy happily married, living at his Pemberley estate and their invited holiday guests: Mr. Bingley, his very pregnant wife, Mrs. Bingley (Jane), their unmarried sister, Miss Bennet (Mary) and an unhappily married sister, Mrs. Wickham (Lydia). And yes, as proper with the times (now 1815) they did refer to each other as Miss Bennet and Mr. and Mrs. Darcy, etc.
Gunderson and Melcon threw into this family mix, Darcy's cousin, Arthur de Bourgh.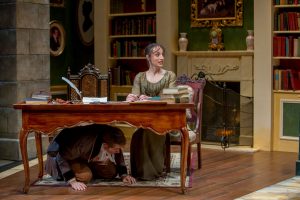 A bookish sort who lacks social graces, he and Mary see each other as kindred spirits. Mary would rather read and play the pianoforte than engage in frivolous societal doings.
As the middle daughter, Mary worried that her future was one of taking care of parents and not being free to explore the world. She even upbraids Arthur when he complains of new responsibilities because he has become a lord and the head of an estate. She tells him to take charge of his new world and live life.
What were mentioned as personality detriments in 'Pride and Prejudice' are Mary's strengths in the eyes of Arthur.  Although she tells him she "suffers from a lack of definition," Miss Bennet: Christmas at Pemberley,' is her defining story.
The Northlight production is well cast. Emily Berman who was in Chicago Shakespeare's 'Sense and Sensibility' is Mary and Erik Hellman from Northlight's 'Shining Lives: The Musical,' is the fumbling, sincere Arthur.
Samantha Beach is a cheerful Elizabeth and Alex Goodrich is an excellent Darcy who admits his early relationship with Elizabeth didn't start off well.
Playwright Tosin Morohunfola who was in Northlight's 'Butler' is terrific as Bingley and Aila Peck is cute as his adorable wife, Jane.  Jennifer Latimore expertly pulls off the difficult-to-like role of  obnoxious sister Lydia and Bri Sudia who was in Northlight's 'Shining Lives' is the surprise intruder, Anne de Bourgh.
Directed by Jessica Thebus who also directed Northlight's 'Shining Lives,' the play moves along to a fast-paced, well-orchestrated beat that makes its 2 hour, 10 minute running time feel even shorter.
Richard and Jacqueline Penrod's scenic design and Kevin O'Donnell's music and sound mesh perfectly with the period and mood.
The play is billed as a Christmas gathering so it may be seen seasonally but it's terrific dialogue and message of shy characters coming into their own is worthy of production, anytime during the year.
Details: 'Miss Bennet: Christmas at Pemberley' is at Northlight Theatre, North Shore Center for the Performing Arts, 9501 Skokie Blvd., Skokie, now through Dec. 24 For tickets and other information call (847) 673-6300 and visit Northlight.