RECOMMENDED
If you believe that Don Quixote embodies any hopes to be able to right at least some of the world's wrongs and if you agree that apathy is generally a societal problem, you will love 'Quixote: On the Conquest of Self,' now at Writers Theatre.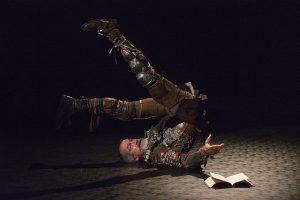 I liked Henry Godinez's soliloquy as Don Quixote that comes in the first third of the production.
Costumed in found objects such as car license plates, what looks like a beer can sleeve, buttons and other possibly tossed in the trash items, Godinez tells the audience what chapters and pages he doesn't like because they either are physically painful or come across as a misunderstood character assessment by Miguel de Cervantes.
He espouses these ideas in acrobatic positions and while doing forward or backwards somersaults that emphasize how he and his life are tossed around by Cervantes.
However, not as helpful in conveying his object lesson of do or say something before it's too late is the second part of the production. This part breaks the fourth wall as Godinez pulls in audience members not just for his story, but for other stories by Cervantes.
I can't go into the third part without a spoiler alert so, suffice it to know that apathy versus righting wrongs becomes crucial. Unfortunately, it has overtones of Peter Pan's plea for Tinker Bell's life with do-you-believe-in-fairies type proposals.
Written by Monica Hoth and Claudio Valdéz  Kuri and translated by Georgina Escobar, the Writers Theatre production is directed by Kuri, a noted Mexican director.
The acting is superb and the show's minimalist staging is perfect for Writers' small Gillian Theatre.  An argument could be made that the show is also perfect for a high school audience where discussions on the conquest of self and apathy could take place.
'Quixote: On the Conquest of Self' is at Writers Theatre,325 Tudor Court, Glencoe,  through Dec. 17, 2017. Running time: 90 minutes, no intermission. For tickets and other information call (847) 242-6011 and visit Writers Theatre.
For other theatre reviews visit TheatreInChicago