HIGHLY RECOMMENDED
A plethora of emotional family issues from parent/child relationships and sibling interactions to growing up, coming out, and leaving one's family on several level, sets the stage for 'Fun Home' at the Victory Gardens Theater.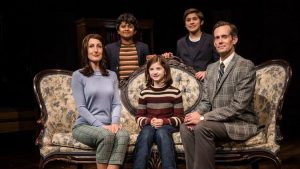 A musical adaptation of Alison Bechdel's 2006 personal graphic novel of the same name, the show has music by Jeanine Tesori and book and lyrics by Lisa Kron.
Chicago audiences may remember when the show played at the Oriental Theatre with a full complement of scenery and props in November, 2016, early in the Broadway Tour.
The Victory Garden production, directed by Gary Griffin, is presented on a sparse stage that encourages the audience to focus on the family's characters.
The music, directed by Doug Peck, begins with songs that introduce the Bechdel family of parents Bruce and Helen and the three young Bechdel children, Alison, Christopher and John. "Home" is the family's Bechdel Funeral Home.
Alison Bechdel (Danni Smith) works on her memoir in the present day as she recalls two past periods in her life where Small Alison, a child of about 10 (Stella Rose Hoyt rotating with Sage Elliott Harper) and Medium Alison, a college freshman (Hannah Starr), often appear simultaneously on stage with Adult Alison.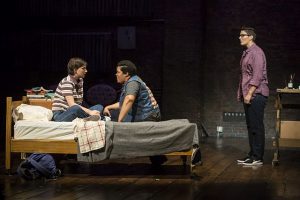 Audiences tune in early to the humor of living in a funeral home when the children hide in a casket while their father, Bruce (Rob Lindley) talks to a client.
When the client leaves, the children emerge from the coffin and perform an imaginary advertisement for the funeral home by dancing and singing "Come to the Fun Home."
As the play continues, Medium Alison goes off to college and tries to discover her own sexuality.  She begins to wonder if she's asexual until she meets Joan, a classmate and self-confident lesbian.
Alison's attraction to Joan comes out in her song, "Changing My Major."  And when she writes a letter to her parents revealing her sexual identity she is shocked when her mother, Helen (McKinley Carter), reveals that Alison's father has had homosexual relationships with men and underage boys.
When Alison comes home from college on a break with Joan her mother describes the devastation she experienced in her unfulfilling marriage with Bruce and sings the haunting "Days and Days."  But, before Alison and Joan leave they all have a pleasant evening with Bruce around the piano.
Adult Alison and her father go for a drive in his car, breaking down the barriers of their pasts.  They work hard to express themselves to each other through the song, "Telephone Wire."
Bruce understands his daughter's coming out, yet tries and fails to find a way to hold himself together.  Regarding his own life, he makes a statement that rings true: "It's harder when you're older to begin."  As he faces his demise, he sings "Edges of the World."
Resigned to her own past and its connection to her father's, Alison  states that she remembers "a rare moment of perfect balance, when I soared above him . . ."
Over the years, she played the physical airplane game with her father and she reminisces about the two "other" Alisons.
The finale, "Flying Away, " brought the audience to its feet.
Along with the beautiful music and talented dancing and singing, the acting is marvelous.
All of the Alisons are terrific and believable. Lindley commands the stage with his dual portrayals of Bruce's open present and secret past.
Carter dutifully carries on her multiple roles of wife and mother while rising above her concealed unhappiness.
The rest of the actors: Preetish Chakraborty, Danielle Davis, Leo Gonzalez and Joe Lino, round out the stellar cast.
After years of performances off-Broadway, the original Broadway production of 'Fun Home' premiered in 2015.  It was nominated for twelve Tony Awards, winning five, including Best Musical.  A national tour began in October 2016.
So, sing and dance your way over to Victory Gardens to see this outstanding award-winning musical play!
DETAILS: 'Fun Home' is at Victory Gardens Theater, 2433 N. Lincoln Ave.,  through Nov.12, 2017. Running time: About 100 minutes, no intermission. For tickets and more information call the box office at (773) 871-3000 or visit Victory Gardens.
For other theatre reviews visit TheatreInChicago
-Francine Pappadis Friedman