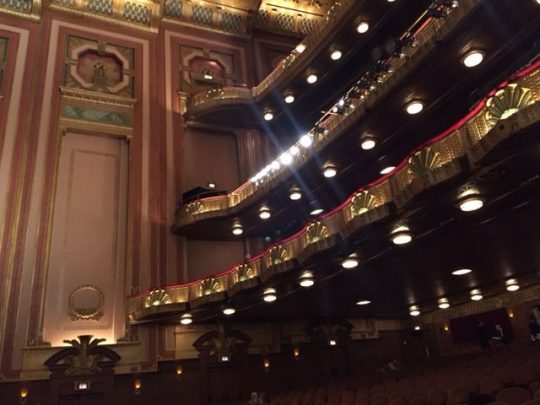 Chicago area theaters put on so many excellent productions that picking our top 10 shows is not merely challenging, it also reflects individual points of view, entertainment preferences and theater and music backgrounds. Readers are welcome to disagree and comment with their own suggestions.
This year, we also are including Broadway in Chicago and Lyric Opera contenders because Chicago audiences attend those productions and support those organizations with subscriptions.
A bit about our reviewers: Reno Lovison, Pam McKuen, Francine Friedman, Mira Temkin and editor Jodie Jacobs are professional writers who have contributed over the years to a variety of publications. Read more in the About section of Chicago Theater and Arts. Their selections could each have extended to five and more but were narrowed down to two apiece.
Reno Lovison
"Haymarket"
"Haymarket" was an important Chicago story, well performed and included appropriate Bluegrass music reminiscent of labor-oriented folk songs. See review of this Underscore Theatre Company's production at Haymarket.
"The End of TV"
"The End of TV" made me a Manual Cinema fan, offering a fresh way to experience live performance utilizing old and new technologies. See review of the Manual Cinema production at The End of TV.
(***: In spite of my two picks I find myself periodically thinking about "Arcadia" and "Fear and Misery in the Third Reich" but probably more as a result of the playwright than the players.)
Pam McKuen
"Once"
A Paramount Theatre production, "Once" is a sweet but short-lived romance with an imaginative set and an upbeat cast of congenial music-makers that was put on at a suburban jewel. See review of Once.
"On Your Feet"
A Broadway in Chicago presentation at the Cadillac Palace, "On Your Feet" is the life story of Emilio and Gloria Estefan. It has everything you'd want in a musical: global hits, glitzy costumes, dramatic lows and comedic punches. I'd see it again. See review at On Your Feet.
Francine Friedman
"Miss Saigon"
Loosely based on the opera "Madame Butterfly," the musical "Miss Saigon" embraces the relationship between an American GI and a young Asian woman while it follows the final days of the Vietnam War.  The play's touring company of wonderful actors, singers and dancers, along with real photos of orphaned, war-born American/Asian children displayed in its second act, brought the musical to life.  See review at Miss Saigon.
"Women of Soul"
At the Black Ensemble Theater through Jan. 21, 2019, "Women of Soul" is a tribute to many well-known female singers, covering their different genres and numerous years.  In addition to the wonderful performers who sing their famous tunes, many newly-revealed details of how their careers blossomed and how some of their lives ended adds insight to their backgrounds. And the closing tribute to the Queen of Soul, Aretha Franklin, brought everyone to their feet. See the review of Women of Soul.
Mira Temkin
"The Buddy Holly Story"
An American Blues Theater production, this high-energy biopic of singer/songwriter Buddy Holly kept the music going at a frenetic pace as a testament to the amazing talents of star, Zachary Stephenson and the entire cast. Even though "it was day the music died, according to Don McLean," the audience never wanted it to end. See review at Buddy Holly Story.
"A Shayna Maidel"
What is family? Can it be created or reborn? "A Shayna Maidel" performed as a revival by TimeLine Theatre, answers these  thoughtful questions in a most profound way. See review at A Shayna Maidel.
(*** Also agree that "Miss Saigon" is among the year's best. This new versio, now on on tour ,takes out all the stops in theatrics, wowing audiences as one of the most spectacular musicals ever written and produced. Contemporary theatre goers can't help but get caught up in the past, knowing how the war ended with the cost in human life and how many Vietnamese orphans the U.S. left behind.)
Jodie Jacobs
"La boheme"
Lyric Opera of Chicago's "La boheme" was extraordinary theater. It had everything from inventive scenery and creative staging to exceptional acting, singing and orchestration. Fortunately, it continues in January, 2019.  See the review at La boheme.
"Steadfast Tin Soldier"
Audiences have come to expect unusual presentations from Lookingglass Theatre. However, Mary Zimmerman's adaptation and direction of the "Steadfast Tin Soldier," has to be seen to really appreciate its outstanding pantomime and puppetry. See the review at Steadfast Tin Soldier.