RECOMMENDED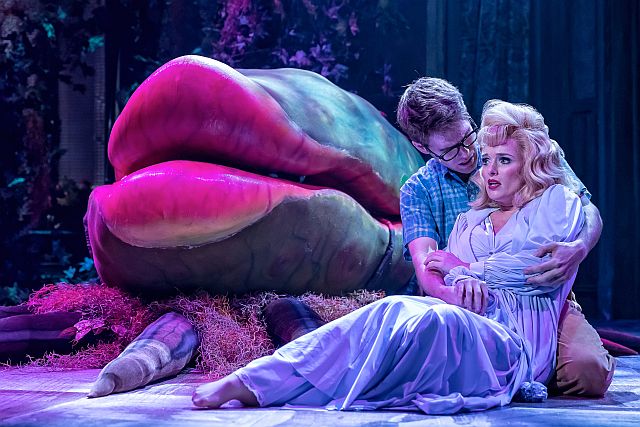 With Halloween 2018 on the horizon, "Little Shop of Horrors" plays into the spookiness of the season. The sort-of-dark musical comedy is now running at Drury Lane Theatre in Oakbrook Terrace. It's more spirited, shall we say, than scary.
The action centers around a dilapidated flower shop on Skid Row and its hard-scrabble denizens. The two central characters are Seymour, a hapless employee played by Will Lidke, and Audrey, his tartly dressed coworker and the object of his affection played by Kelly Felthous. Mr. Mushnik, their boss played by Ron E. Rains, is just as down on his luck as everyone else.
Seymour suddenly is offered success beyond his imagination by a demanding, carnivorous, exotic plant on a growth spurt. The condition? The plant is blood thirsty.
A morality tale could be lurking if not for the camp and the kitsch.
Offering commentary doo-wop style is a glamorously attired trio ala The Supremes: Melanie Brezill as Ronnette, Candace C. Edwards as Crystal and Melanie Loren as Chiffon.
Under the direction and choreography of Scott Calcagno and musical direction by Roberta Duchak, the entire cast is superb and engaging in their performances. Many are Drury Lane returnees.
Felthous shows both vulnerability and strength as the young woman whose dreams will never come true. Steven Strafford shows deft range as he portrays half a dozen motley characters including a sadistic dentist, a wino and a pushy TV executive.
The lyrics are written to further the plot, and the vocalists are clearly talented, but the words often are muddled in the expanse of the theater. However, the finale, "Don't Feed the Plants," gets its message across.
Count on Drury Lane for inventive set design, and this production with scenic designer Kevin Depinet at the helm is no different. The story moves between two sets, the flower shop interior and the streetscape constructed back-to-back on a revolving turntable.
Additional members of the creative team are costume designer Lynda Myers, lighting designer Ryan O'Gara and puppet designer Martin P. Robinson. The band is led by conductor/keyboardist Chris Sargent.
The musical is based on the 1960 low-budget film with book and lyrics by Howard Ashman and music by Alan Menken. It ran Off Broadway for five years during the 1980s and was a winner of the Drama Desk Award for Best Musical. When it closed in 1987, it was the third-longest-running musical in Off Broadway history.
DETAILS: "Little Shop of Horrors" is at Drury Lane Theatre, 100 Drury Lane, Oakbrook Terrace, through Oct. 28, 2018. For tickets and other information call (630) 530-0111 or visit Drury Lane Theatre.
Pamela Dittmer McKuen
For more shows visit Theatre in Chicago