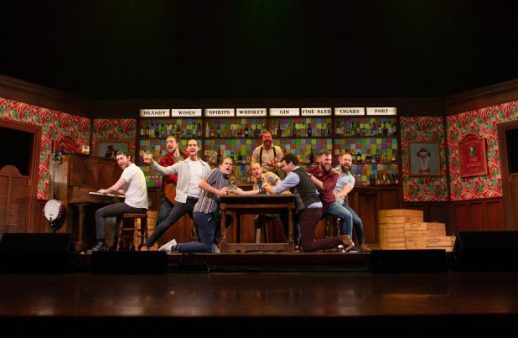 3 Stars
In spite of the venue "The Choir of Man" is more boy band concert than Broadway musical. It features nine very energetic, vocally talented, male singers who purport to be "regulars" at a traditional Irish Pub named "The Jungle," that serves up pop.
This musical extravaganza is loosely narrated by Denis Grindel who introduces his mate. He provides a bit of backstory about each of their characters as a way of establishing the iconic stereotypes we have all encountered in every tavern and public house the world round.
Grindel's introductions explain that this is one of those places where we go to be who we are and where people accept us for who we are — good, bad and ugly. Though in this case the boys are not too "bad" and nary a one, would be accused of being ugly.
This being the case, "The Choir of Man" is a perfect fantasy for those looking for a bit of testosterone flavored eye-candy, perhaps a "girls night out," that's not too naughty.
I could not help thinking that after taking little sister to the American Girl store, a few steps away, Mom could take bigger sister here for her share of fun.
Yes, there is plenty of beer flowing but I do not think there is anything said or done that an average thirteen year-old has not seen or heard on prime-time TV. And in fact, there were a number of youngsters on hand opening night.
Sadly, the program does not include a list of songs so I suspect they change it up as they get a sense of what's working. It is basically about 15 or so cover tunes by Adele, Queen, Paul Simon, Katy Perry, Red Hot Chili Peppers and others that everyone will find enjoyable and most will find familiar.
The harmonies are awesome with onstage guitar accompaniment by Peter Lawrence, occasional piano by Connor Going and random percussion including a foot stomping tap dance by Matt Cox.
This is good clean well-intentioned, high caliber, fun. Perfect, if you happen to be in town for a visit or just looking for something to do before or after a nice dinner near Michigan Avenue or Rush Street.
"The Choir of Man" is at Broadway Playhouse at Water Tower Place, 175 E. Chestnut St., Chicago, through March 17, 2019 (before continuing their US tour). For more information, visit BroadwayInChicago.
Reno Lovison
For more shows visit Theatre in Chicago