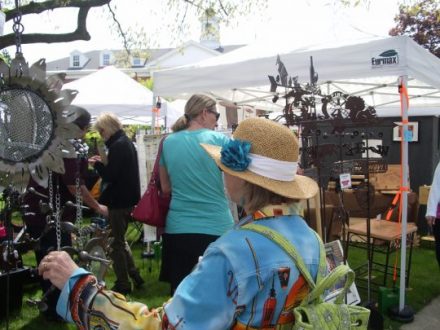 Two festivals open the spring/summer arts season, one downtown Chicago, the other in Park Ridge. They are the second weekend of May so let's hope our rainy/snowy April won't extend into May.
Manifest Urban Arts Festival
Held by Columbia College, long known for its arts programs and degrees the festival is a day-long, free arts celebration//demonstration May 10 from noon to 9 p.m. along the Wabash Arts Corridor May 10 from 9th to 11 Streets.
The festival features bands, fashion and art exhibitions, dance and theatre performances and hip-hop star Kweku Collins, For time and specific location of each highlight visit Manifest Urban Arts Festival. As an example "Documenting Truth in an Era of "Fake News" features photographs and film trailers from noon to 9 p.m. at 1104 S. Wabash Ave. 8th floor. Animation Showcase is in the same location from 4 to 7 p.m.
Arts & Crafts Adventure
Presented by the American Society of Artists, the show feature paintings, photography, jewelry, glass, wood and other hand-made items and some artists demonstrations. Look for it on May 11 in Hodges Park, 101 S. Courland near Prospect and Vine across from Park Ridge  City Hall. It is near the uptown Park Ridge Train Station. Hours: 9 a.m. to 5 p.m. Free admission.  For more information visit Arts & Crafts Adventure call (847) 991-4748 or visit Arts & Crafts Adventure.
Jodie Jacobs