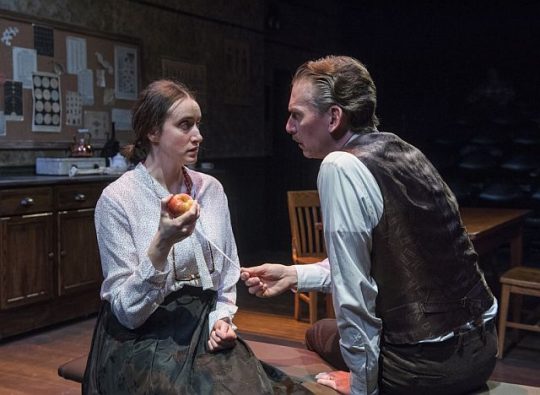 4 Stars
Can a brilliant Jewish philosopher and her celebrated German professor, turned lover, exist on two opposite tracts? The answer, of course, is no.
But the production of "Hannah and Martin" by Shattered Globe Theatre takes the audience through an ideological and moralistic journey with deep, thought-provoking, dialogue.
Written by Kate Fodor, the play is based on the clandestine love affair between German-Jewish political theorist Hannah Arendt and her teacher, the well-known German philosopher Martin Heidegger. After the war, Arendt was considered one of the most important political philosophers of the twentieth century.
On a collision course with politics and destiny, this powerful drama takes place in Germany from 1924 – 1946.  Disappointment looms when Arendt discovers that her beloved Heidegger is working to promote the goals of the Nazis.
Hannah, played by Christina Gorman is passionate in her portrayal, leaving the audience spellbound and hanging on every word. Yet, the play keeps addressing the obvious question, "How could she defend him?"
Lawrence Grimm plays the powerful Martin Heidegger who is smitten with Hannah's brilliance and potential. He uses his philosophical teachings as an errant seducer of the young, innocent student.
The audience watches him age over time as his physical presence deteriorates and he is but a shadow of himself.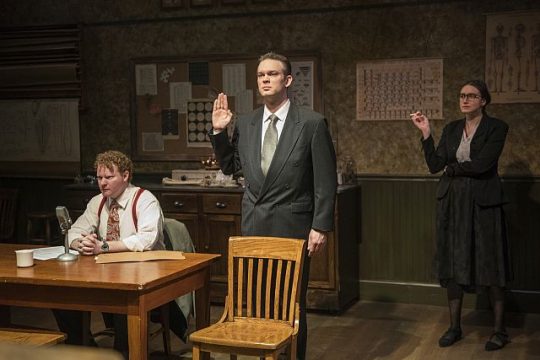 Cortney McKenna as Elfride, his long-suffering wife knows the truth about Hannah and Martin. She is excellent, hiding her pain and fear.
The production is directed by Louis Contey. Kudos to scenic designer Nick Mozak whose stark setting is placed in the middle of the stage. The audience sits on two sides, reflecting the two philosophical differences of the characters.
Also interesting is the role of music, specifically Heidegger's love of Wagner, which is continually played throughout the show.
Fortunately for the audience, the program goes into great detail about the timeline of events, providing additional insight into the politics of the day.
This Jeff-Awards recommended show will keep you engaged with a story that goes beyond history and into the heart.
DETAILS: "Hannah and Martin," a Shattered Globe production, is at Theatre Wit, 1229 W. Belmont Ave. through May 25, 2019. Running: 2 hours and 10 minutes with an intermission. For tickets and other information, call (773-770-0333) or visit Shattered Globd Theatre.
 Mira Temkin
For more shows visit Theatre in Chicago